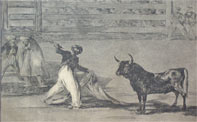 Origen de los arpones o banderilas Francisco de Goya
The present exhibition includes a total of 66 prints by two of the great masters of Spanish art: Francisco de Goya (Fuendetodos, 1746 - Bordeaux, 1828), and Pablo Picasso (Malaga, 1881 - Mougins, 1973). Both artists, at different periods and within the context of their own styles, produced a series of prints relatively late in their career on a quintessentially Spanish subject: that of bullfighting.
Goya created his series of 40 aquatints between 1814 and 1816. The images at the start of the series illustrate a text by Nicolás Fernández de Moratín entitled La Carta Histórica sobre el origen y progresos de las Fiestas de Toros en España, published in 1777. In the remaining prints, Goya moved away from illustrating specific texts and looked to his own personal experience. He depicted bullfighters whom he had known in his youth (Marticho, Juanito, Apiñan and La Pajuelera), the death of Pepe Hillo, or simply recorded the different passes of the matadors with his customary brilliance at capturing movement.
Picasso was commissioned by the publisher Gustavo Gili to illustrate the manual Tauromaquia o el arte de torear by Pepe Hillo. In the late 1950s, and after having attended a particularly magisterial bullfight in Arles, he created these 26 etchings. Picasso depicts the different stages of the bullfight in a rapid, sketchy manner as if recording them directly from life.

BACK TO TOP