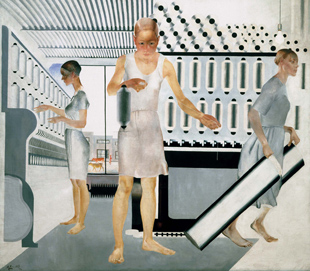 Las trabajadoras textiles
, 1927
(Galería Estatal Tretyakov, Moscú)
This is the first exhibition in Spain to present the work of the Russian artist Aleksandr Deineka (1899–1969) and by extension the historical period from which it was borne. With the aim of presenting both in a twofold context: the end of the avant–garde and the advent of socialist realism. This comprehensive retrospective is to date the largest devoted to Deineka outside Russia: over 80 works on view are completed by a broad yet detailed selection of magazines, posters, books, documents, objects, and works by other Russian avant–garde artists, some 250 works and documents.
In 1985, a time when the Soviet regime was still in power, the Fundación Juan March organized an exhibition titled The Russian Avant–Garde, 1910–1930. Ludwig Museum and Collection, the first show in Spain to display art works by the Russian avant–garde. In the past 23 years, various exhibitions devoted to the leading figures of this movement–among them, Kazimir Malevich (1993), Aleksandr Rodchenko (2001), and Liubov Popova (2004)–have been staged at the Fundación, including the recent Total Enlightenment: Conceptual Art in Moscow, 1960–1990, held in 2008. This show brought together the work of a number of Soviet artists such as Ilya Kabakov, Erik Bulatov, Vitalii Komar and Aleksandr Melamid. Straddling both concept art and their own particular style of Soviet pop art, these artists focused on and raised issues regarding Soviet culture during the Stalin era, from his rise to power following Lenin's death in 1924 to his death in 1953.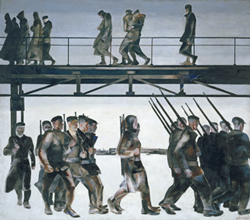 La defensa de Petrogrado, 1928
(Museo Estatal de las Fuerzas Armadas)
These exhibitions therefore addressed two moments in Russian history: the great experiment that was the Russian avant–garde in the years preceding the Stalin era and the unofficial and decidedly postmodern form of Soviet art that emerged a decade after Stalin's death. In order to complete this historical overview, it became obvious that the interval between both periods, a defining moment in the history of modern Russia, deserved our attention. And so, Soviet revolutionary art and art produced during the Stalin era, in particular, are at the core of the present exhibition.
Deineka's straightforward painterly style coupled with the ambivalence—or ambiguity—of his art and persona serve as a representative example. The artist received his formal training at institutions traditionally influenced by avant–garde art and formed part of the last remaining constructivist groups (such as October and OST). Because of this, and in spite of his commitment to the revolution and the formation of a socialist state, he was accused of adhering to formalism.
The exhibition also presents a selection of magazines, posters, books, documents, objects, and works by other Russian avant–garde artists–with a special focus on their revolutionary output–that mirror the "ambivalent" and "ambiguous" quality of Deineka's art and career. Presented together, these works expose a unique, coherent (and unexplored) set of relationships between socialist realism and the Russian avant–garde.