Publications exhibitions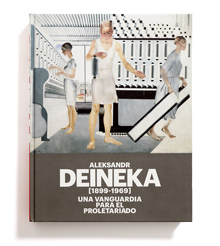 Catalog home
In addition to the exhibition catalogue, printed in English and Spanish, the show is accompanied by a facsimile edition of Elektromonter (The Electrician, 1930) by Boris Ural'skii, a children's book illustrated by Deineka.
Through image and text, this extensive catalogue presents an in–depth and varied account of Aleksandr Deineka's production and the historical circumstances that surrounded his work, unknown to the general public and experts alike. Given this general lack of knowledge, the volume brings together several essays by scholars of Soviet art, the Russian avant–garde, and Aleksandr Deineka in particular. The Fundación Juan March extends its gratitude to the following contributors: Alessandro De Magistris, Ekaterina Degot, Carlos María Flores, Boris Groys, Fredric Jameson, Christina Kiaer, and Irina Leytes.
The catalogue also features an exhaustive anthology of previously unpublished historical documents. Selected texts include writings by Deineka, texts on Deineka, and several other documents written between 1913 and 1969 that are key in grasping the complexity of this historical period: from standardized writings by avant–garde artists to proclamations, manifestoes and polemic accounts of revolutionary art, as well as socialist realism's foundational texts, and even passages of bio–cosmic writings or extracts by the early Soviet utopians, whose ideas had a strong impact during these years.
The selection of texts for the present catalogue is grounded in our firm belief that lack of knowledge—or proper appraisal—of Deineka's art and historical context partly stems from the fact that Russian and Soviet sources are not easily accessed. A fact that is all the more obvious in the Spanish–speaking cultural milieu, as many of the texts selected for this critical edition were unavailable in this language. The result is a body of texts carefully translated from the Russian, some of which are accompanied by a detailed critical apparatus.
Coupled with Deineka's body of work, this selection of historical literature will provide the viewer with in–depth knowledge of the ideas that inspired the leading figures of the time.