11 February to 15 May 2011
ROUND TRIP VOYAGES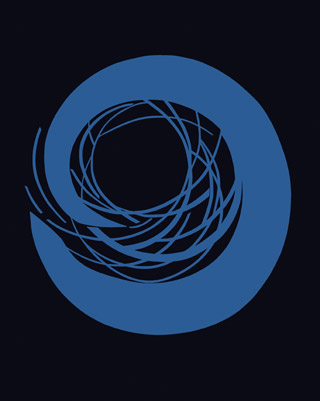 Luis Martínez Pedro:
Territorial Waters no. 5 –
1962
Oil on canvas
Modernity in Latin America should not be understood as a uniform phenomenon but rather as a disparate and erratic process with periods of contraction and expansion which preclude simplistic, unequivocal analyses. Indeed, rather than modernity in the singular, in the case of Latin America one might suitably speak of multiple modernities, whose temporal divergences and gaps are so pronounced that they have virtually become a trait of our modern identity.
In the first decades of the twentieth century, in cities like Buenos Aires, Havana, or São Paulo, this heterogeneous, contradictory, and eminently urban modernity gave birth to an intense cultural production that sought its foundations in that which was local and indigenous as a means to discover the universal. It is no coincidence that these countries (Argentina, Uruguay, Brazil, Venezuela, Cuba, Mexico) became the destination for significant numbers of European émigrés whose presence in America would have major historical and cultural repercussions in the life of these countries. Nor is it fortuitous that the cities most closely tied to modernity lie on or relatively near the Atlantic seaboard, in regions that were most favorable for commercial and cultural exchanges with Europe. Another aspect that characterized Latin America's burgeoning modernity was its restriction basically to the capital cities; these countries' inland territories, in contrast, continued stubbornly to cling to cultural modes and practices deriving from their postcolonial status.
The moment at which the debate around geometric abstraction developed in Latin America coincided precisely with a period of transatlantic voyages, back and forth between America and Europe, by the protagonists of this story, exchanges that would decisively influence their future artistic practices. At the time, gazing towards Europe was de rigueur, constituting another feature that identified us as "modern." Like the regions in Latin America in which modernity was championed, however, Europe likewise offered its own specific space for the modern, and the majority of the Latin American intelligentsia turned toward that epicenter of the avant–garde: Paris, and none other, was the city to which all roads led, the city that received and in turn irradiated outward a cultural dialogue whose repercussions were greater than that which any other European city could offer. Madrid, capital of the former empire that had colonized the Americas and the standard-bearer of the common language that identifies us—with the notable exception of Brazil, of course—likewise could not resist the cultural tug from the French capital.
Two return journeys—one definitive, the other transitory—provide the chronological boundaries for the present exploration of the twists and turns of geometric abstraction in Latin America. The first is Joaquín Torres–García's return to Uruguay in 1934. The second is Jesús Rafael Soto's return in 1973 to his birthplace, Ciudad Bolívar (Venezuela), to inaugurate the first stage in the construction of the museum that bears his name, designed by Carlos Raúl Villanueva. The idea of creating a museum in Ciudad Bolívar was not new; Soto had announced such a plan in 1960 when he received the National Prize in the Plastic Arts, though the project would not be undertaken until thirteen years later.
Significantly, these two return journeys originated in Paris, though Joaquín Torres–García left Europe via the southern Spanish port of Cádiz shortly after his brief and bewildering experience in Madrid. The Uruguayan artist's return marks the beginning of our tale, though it is true that for Mario Gradowczyk, abstraction in Latin America began a year earlier, with Juan del Prete's exhibition in Buenos Aires.
(Extracted from Geometric Abstraction in Latin America (1934-1973): Round Trip Voyages, by Gabriel Pérez-Barreiro (exhibition catalogue)).