11 February to 15 May 2011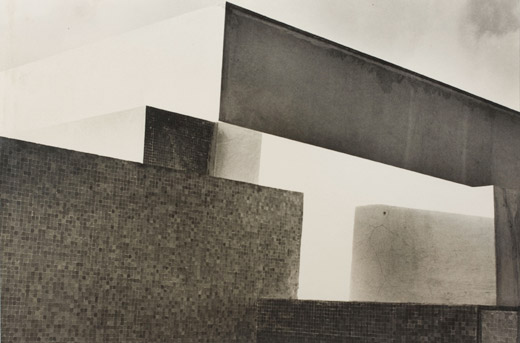 Leo Matiz:
Abstract, USA,
– 1950.
Vintage silver-gelatin print
A FASCINATING STORY
The exhibition has a specific time frame defined by the dates in which two artists returned to America from Europe: 1934, the year when Joaquín Torres-García settled permanently in Montevideo following his European (and North American) tour, and 1973, when Venezuelan artist Jesús Rafael Soto returned to his native city of Ciudad Bolívar to attend the opening of the museum that carries his name.
Executed between the dates that mark the beginning and end of the exhibition, the artworks (and documents) on display draw a chronological and geographical line that also tells a story of artistic and intellectual endeavor, as fascinating as it is unknown. In effect, a new artistic language was invented in Central and South America over the course of four decades. And while it contained references to abstract and concrete art, constructivism, neo-plasticism, or even suprematism, this new style eventually transcended European trends and at the same time imbued them with a personal flavor.


Alejandro Otero:
Coloritmo 45A – 1960
Pintura Duco sobre madera
The narrative of this exhibition begins in Uruguay, Joaquín Torres–García's homeland, with the artist's relentless commitment to a constructivist style of art. It continues with proposals put forward by artists such as Rhod Rothfuss and Carmelo Arden Quin, who, in a daring gesture, attempted to break away from the frame-window and vigorously supported the disjunction between painting and the natural world. This phase is followed by the Madí group's singular take on constructivism and geometric abstraction, leading to what is known as perceptism and inventionis
During this period, two concrete art groups emerged in two cities as different from one another as Rio de Janeiro and São Paulo. As the 1960s approached, abstract and geometric painting produced by artists in Rio de Janeiro acquired a warm, organic, "sensível" quality.
While living in Paris, Venezuelan artists Alejandro Otero, Jesús Rafael Soto, and Carlos Cruz–Diez evolved towards abstract art in the 1950s. Meanwhile, in Cuba, geometric abstraction—even less popular than the abstract trends of other countries and soon affected by the triumph of the Revolution—was practiced by the internationally renowned artist Sandu Darie, a central figure of the movement, and by two women: Loló Soldevilla and Carmen Herrera.
The chronological scope of the exhibition encompasses the work of several painters and sculptors, as well as—perhaps less well-known—photographers and architects. From the start, this project has been intent on giving abstract photography a prominent place within the show and has thus included works by, among others, Gaspar Gasparian, Leo Matiz, José Yalenti, Marcel Gautherot, and Haruo Ohara. Architecture is also well represented in the show. As a means to accomplish the "integration of the arts" (a proposal put forward by Carlos Raúl Villanueva that recalls the postulates of Le Corbusier), unparalleled architectural projects were conceived and realized in Latin America: Niemeyer's Brasília, Mies van der Rohe's building designs for Cuba, or Villanueva's University City of Caracas, a project that attracted a number of geometric abstract artists.