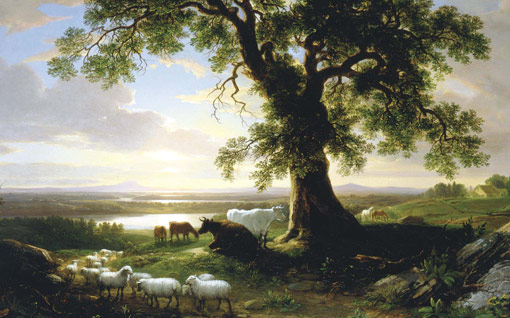 Asher B. Durand.
The Solitary Oak (The Old Oak)
, 1844.
The New–York Historical Society
This exhibition of works by Asher B. Durand (1796–1886) will be the first in Spain and Europe ever devoted to this 19th-century painter and founder of the American landscape painting school, what would soon become known as the Hudson River School. Through an important selection of 140 works–oils, drawings, and prints (Durand being a pioneer in the latter)–spanning his entire artistic career, the exhibition will reveal his genius as a landscape painter as well as the other themes he treated during his long career: portraits, genre scenes, and bucolic American landscapes.
The exhibition will also include a small selection of paintings by Durand's fellow artists and followers. The majority of the works are being loaned by the New York Historical Society, which holds the most important collection of Durand's works. The project is being overseen by Dr. Linda S. Ferber, N–YHS curator and renowned expert on Durand, with the collaboration of noted scholars on Durand and 19th-century American art: Dr. Barbara Novak, Dr. Barbara Dayer Gallati, Dr. Rebecca Bedell, Dr. Roberta Olson, Dr. Marilyn Kushner, and Dr. Kimberly Orcutt.