Trees, a durand's obsession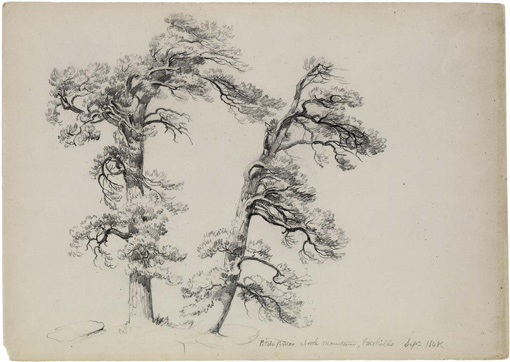 Asher B. Durand.
Pitch Pines, North Mountain, Catskills, New York
, 1848
The New–York Historical Society
Of the two leitmotifs–trees and rocks–animating Asher B. Durand's work, trees can be called his "magnificent obsession." Plein–air arboreal studies functioned as his naturalistic exercises and spiritual devotions. Of the 300-odd sheets by Durand in the New–York Historical Society collection–the lion's share of his drawings–at least 157 are tree studies, while more than 100 are landscapes with prominent trees or arboreal stands.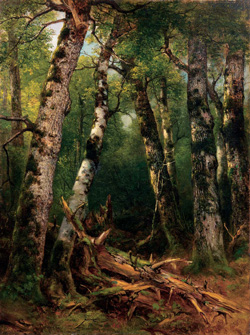 Asher B. Durand.
Group of Trees
, 1855-1857.
The New–York Historical Society
Fascinated by trees as natural icons, Durand wrote eloquently about them in his "Letters on Landscape Painting" in The Crayon (1855). In this manifesto of American painting, he refers to them twenty times, as well as mentioning forests and foliage. For him trees were the vehicle by which he could reveal the ideal through the real, and he advocated drawing them in "pencil" (graphite) on paper, a prescription he followed compulsively.
Durand was not alone in his obsession with trees. From the international Romantic movement of the later eighteenth century through the Realism of Gustave Courbet and German Biedermeier artists, trees punctuated landscapes like iconic beacons. Similar to Durand, Caspar David Friedrich was obsessed with drawing single, groups, or lines of trees and he included them prominently in many of his as well as his prints. Like Durand he also fixated on rocks.
The artist's son, John Durand, documented his father's sketching habits and the obsession with trees that continued in his later work . John described him as "stopping in the wilderness where... the trunks, and branching of particular trees, the verdant masses of middle–distance, and the lines of the mountains answered to his search for the beautiful. He added about his father's practice:
Finding trees in stands, he selected one that seemed to him, in age, colour, or form, to be the most characteristic of its species, or, in other words, the most beautiful... [H]e eliminated all shrubs and other trees which interfered with the impression made by this one. Every outdoor study... was regarded as a sort of dramatic scene in which a particular tree or aspect of nature may be called the principal figure... giving the most interesting object strong relief.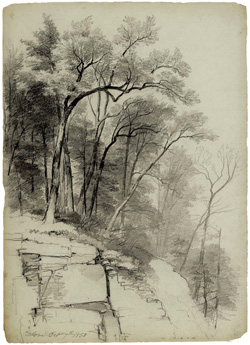 Asher B. Durand.
Study of Trees and Rocks, Catskill Clove,
New York, Catskill Clove, Nueva York
, 1850
The New–York Historical Society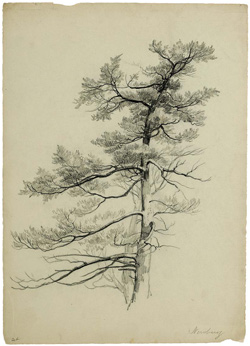 Asher B. Durand.
Study,
Newburgh, Nueva York
, c. 1849.
The New–York Historical Society
Above all, Durand's mature sketches of trees are optically convincing , as his varied strokes of graphite magically evoke their infinite varieties of texture and movement, and sometimes even their sounds when stirred by the wind.
(Extracted from A Magnificent Obsession: Durand's Trees as Spritual Sentinels of Nature, by Roberta J. M. Olson, in the catalogue)