Durand: Short biography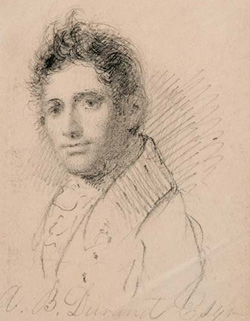 Asher B. Durand.
USA, 1796-1886.
The New–York Historical Society
Asher B. Durand was born on August 21, 1796, in Jefferson Village (now Maplewood, New Jersey). He began a five year apprenticeship under the engraver Peter Maverick in Newark, New Jersey, in 1812. Following their partnership in 1817, Durand moved to New York City and founded a branch of the engraving business. He entered the New York City Directory (NYCD), located on Pine Street, as an engraver in 1820. That same year he signed an agreement with John Trumbull (1756-1843) to engrave the Declaration of Independence for $3000. This commission brought Maverick and Durand's partnership to an end. He exhibited six portrait engravings at the American Academy of Fine Arts.
In 1824, Engraving, Declaration of Independence, Painted by D. J. Trumbull. Engraved by A. B. Durand was displayed at the American Academy of Fine Arts. Durand entered into partnership with elder brother Cryus (1787-1868) and Charles C. Wright (1796-1854) in an engraving and banknote printing business entitled A. B. & C. Durand, Wright & Co. The firm (renamed Durand, Perkins & Co., in 1828) dissolved in 1831-1832. Durand met painter Thomas Cole (1801-1848) in 1825. In November of that same year, he chaired a meeting at the New-York Historical Society to organize the New-York Drawing Association. Samuel F. Morse (1791-1872) was elected its first president.
In 1826, Durand was elected as one of the fifteen founders of the National Academy of Design (NAD). He entered religious paintings and four portraits (three prints) in the Academy's first annual exhibition. Four of Durand's works were also featured at the 1828 NAD exhibition, including the painting Landscape Composition and three prints taken from paintings on view at the show. Durand's engraving of Andrew Jackson was published that fall.
Due to a cholera epidemic in New York City, Durand and his family relocated to Camptown, New Jersey, in the summer of 1832. The following year he began a series of engravings entitled National Portrait Gallery of Distinguished Americans. Among the six works Durand entered in the NAD annual exhibition was the Portrait of Gov. Ogden of New Jersey. Four prints were exhibited at the American Academy of Fine Arts in New York, including a portrait of Catherine Maria Sedgwick. William Dunlap's History of the Rise and Progress of the Arts of Design in the United States, published in 1834, featured a chapter on Durand, referring to him as "our first engraver."
In 1837, the Durands and the Coles visited Schroon Lake. Durand and Casilear went on sketching expeditions to locations such as the Shawangunk Mountains, Kingston, Rhinebeck and Saugerties, New York. Durand later travelled to the White Mountains in New Hampshire with Cole and continued the trip without him, reaching Vermont, where he sketched in the Green Mountains and near the Notch House in the White Mountains.
On June 1, 1840, with money advanced by Jonathan Sturges, Durand departed New York and embarked on a European tour that would conclude in June of the following year. During his stay in London, he paid frequent visits to the British Institution, the Royal Academy of Arts, the Old and New Watercolour Societies, and the National Gallery. On July 31, he left London for Paris, where he met painter Alphonse Boilly (1801-1867) and visited the Louvre Museum, and the Luxembourg and Versailles Palaces. Other cities Durand travelled to include Brussels, Antwerp—where he attended festivities commemorating the 200 year anniversary of the death of Peter Paul Rubens (1577-1640)—, Rotterdam, The Hague, Amsterdam, as well as Swiss and German cities.
In 1841, Durand arrived in Italy. He travelled through Lake Lugano and Como on his way to Milan, where he viewed the cathedral, art galleries, and Leonardo's The Last Supper. He continued his trip to Venice, Padua, and Bologna, visiting art collections, churches and the cathedral. While in Florence, he visited the Palazzo Medici and the Uffizi Gallery (where he copied Rembrandt's Self-portrait), as well as the Academy of Fine Arts, San Salvi Abbey, Andrea de Sarto's The Last Supper on view in the abbey refectory, and Michelangelo's house, which contained several drawings. Durand completed this leg of the trip in Rome.
Durand returned to England through France in June 1841. In 1844, he entered nine works in the NAD annual exhibition, including The Solitary Oak (on sale). Asher B. Durand was elected president of the NAD and would become a founding member of The Century Association two years later.
In May 1849, Durand bought a property on the Hudson River, near Newburgh. Several portraits and four landscapes belonging to the New York-Gallery of Fine Arts were featured at the "Washington Exhibition," held in 1853. Works on view included The Solitary Oak (The Old Oak) and The Wrath of Peter Stuyvesant. In 1855, The Crayon began publication and Durand's nine "Letters on Landscape Painting" were published.
Durand resigned as president of the NAD in 1861, the year the Civil War began. He exhibited two works at the Paris World Exhibition of 1867. That same year a public auction of 100 paintings by Durand was held at Henry H. Leeds & Miner in New York. In 1868, Durand sketched in the Adirondacks and Lake George. In April 1869, he moved to the house of his childhood in Maplewood. An article by Eugene Benson, "A. B. Durand—Our Veteran Landscape-Painter," was published in Appleton's Journal in 1870. Durand executed In the Adirondacks that same year.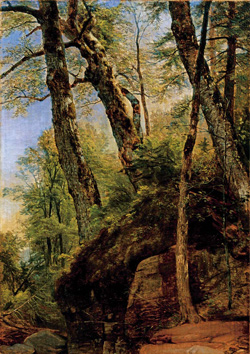 Asher B. Durand.
Black Birches, Catskill Mountains
, 1860.
The New–York Historical Society
Durand was appointed member of the Committee on Fine Arts of the New-York Historical Society. His work was exhibited at several institutions in subsequent years. He entered nine works—including the prints The Declaration of Independence, Musidora and Ariadna—in the Philadelphia World Exhibition of 1876. While living in Maplewood, he went on his final excursion to the Adirondacks in 1877. High Point: Shandaken Mountains (1853) was acquired by the Metropolitan Museum of Art, New York, in 1877.
Kindred Spirits (FIG. 1.4) was exhibited at the Century Association in 1878 in memory of William Cullen Bryant, who had died on June 12. Durand painted Sunset-Souvenir of the Adirondacks, considered to be his last painting. Durand died on September 17, 1886, at his Maplewood property at the age of 90. His funeral was held at the All Souls' Church in New York on September 21. He is buried in Green-Wood Cemetery in Brooklyn, New York.
This short biography is based on the Chronology compiled by Sarah B. Snook, in Linda S. Ferber (ed.), Kindred Spirits: Asher B. Durand and the American Landscape. New York and London: Brooklyn Museum, D. Giles Ltd., 2007.