A master engraver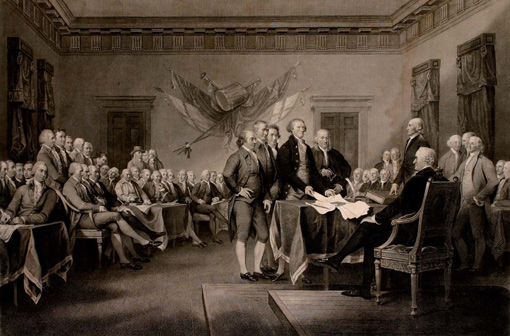 Asher B. Durand.
Declaration of Independence
, 1820—23
The New-York Historical Society Library
Asher B. Durand's early career as an engraver has been largely overshadowed by his later fame as a landscape painter. Yet between 1812 and 1835, he produced more than 230 prints and by 1823 was considered the nation's finest engraver.
Portraits of a more modest scale would ultimately constitute most of Durand's engraved production. These portraits served both private and public functions: most were personal memoirs of family members, but some were also read as images of model citizens of the new republic (men and women) or depictions of unique American types. Durand, who was commissioned to engrave nineteen portraits for the National Portrait Gallery, lamented the pedestrian toil of such work. Nevertheless, the steady demand for it ultimately offered him a means of transition from engraver of portraits to painter of portraits.
Engravers of the early nineteenth century also designed and printed currency for American banks. Banknote engraving was a highly important and lucrative business at the time, a business that reflected the enterprise and economic progress of the new nation. To bolster his income in 1824, Durand joined his older brother Cyrus's banknote engraving firm as a partner.
Durand maintained a lifelong interest in prints. The master engraver would bring superb draftsmanship and remarkable command of detail to his forty years as a painter of the American landscape.
(Extracted from A Master Engraver: Founding Fathers, Banknotes, and the Great American Nude, by Marilyn S. Kushner and Linda S. Ferber, in the catalogue)