Mapping durand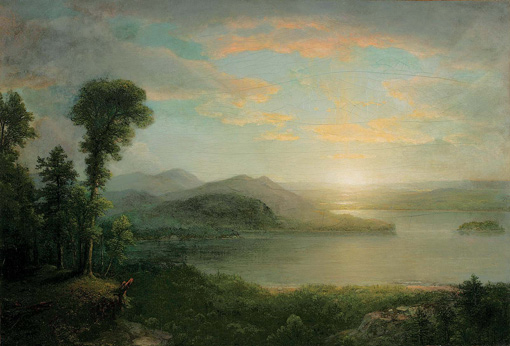 Asher B. Durand.
Sunset: Souvenir of the Adirondacks
, 1878.
The New–York Historical Society
I've worked on Durand for fifty years now, and I still feel as if I don't know him. He is extremely difficult to characterize. In some ways, he is direct, forthright, and pastoral in a comfortable familial sense. Also, elusive and enigmatic. He is neither philosophical and mystical like Thomas Cole, nor rhetorical like Frederic Edwin Church, nor a master of "repose and sweetness," as Henry T. Tuckerman described John Frederick Kensett.
Where does Durand fit on a national and international scale? His arc as an artist rises from his beginnings as engraver, through his early Cole-influenced historical paintings and the hierarchical categories of portraiture, genre, and landscape, into what I have called the avant-garde contributions of his proto-Impressionist studies from nature. This parallels in an interesting way the general development of late eighteenth- and mid-nineteenth-century painting both in America and abroad.
Long before Marcel Duchamp and Andy Warhol, Asher Durand reinforced the idea of art as a matter of the artist's selection. The compositions of his studies from nature were "found" at the sites he selected as art-like, without adaptation. In doing so, in his own time, he was also paralleling the choices of art-like subject matter that contemporary photographers framed.
LANDSCAPE AS A SMALL SLICE OF CREATION
Durand seems to have found his absolute, his vision of permanence, literally in the rocks and trees, which register almost as an obsession. He isolated them in the oil studies from nature, and repeatedly drew them with an intricate, untiring pencil, as seen in the seemingly endless portfolios of drawings in the Historical Society.
God is not so much God as God the Creator, and Creation is the big Holy Grail for the landscape artists of the mid-century. So Church chases Creation in South America and Bierstadt tracked it in the West. Beginnings were what they were after, and while Durand, like Natty Bumppo even earlier, could find such beginnings closer to home, along the eastern route of the Hudson River men, Church's ambition needed the glamour and exoticism of volcanoes. Durand was happy enough with his humble rocks, his small slice of Creation. But his other obsession was even greater. He drew trees even more frequently than he drew rocks. He seems to have been permanently enamored of trees.
Durand, in any case, seems to have valued trees above all other aspects of nature, if we are to judge by the prolific tree drawings in the Historical Society. We can now ask ourselves what did his love, his esteem, his obsession with the tree mean? Each tree for Durand is different. I would like to emphasize the sense of renewal, even immortality that Durand's trees connote. They exist in and out of time, relating to ideas that will be codified by Darwin's theories of evolution, but also connecting through their continuity to earlier ideas of Creation.
Durand's paintings of rocks and trees in the studies from nature remind me of nothing less than Paul Cézanne's paintings of rocks and trees about fifty years later. Durand's juncture of the optical and the tactile becomes not only a diagram of the process of perception as we understand it today, but an indication of his desire, like Cézanne's, to realize his sensations before nature.
Durand's ability to realize his sensations before nature, I would hold, places him not only in his own time, but somewhere in the future with artists who establish a modernist legacy for art history.
(Extracted from Mapping Durand, by Barbara Novak, in the catalogue)