Therapeutic landscape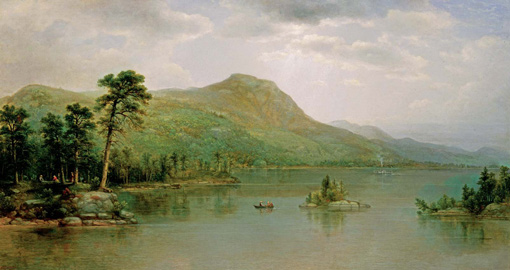 Asher B. Durand.
Black Mountain from the Harbor Islands, Lake George, New York
, 1875
The New–York Historical Society
Durand's landscape paintings can be understood as part of the mid–century development of what Kenneth Blair Hawkins has called the "therapeutic landscape". Durand's works share with these other landscape types not only healing ambitions, but also striking similarities in form. These are absorptive landscapes designed to draw one in, enfolding one in verdant forms that close off near views while opening distant vistas.
Durand himself sometimes suffered from the ill–effects of urban life, at least according to his friend and fellow artist Thomas Cole. When Durand wrote to him of a lingering bout of depression, Cole advised: "You must come to live in the country. Nature is a sovereign remedy."
Nineteenth–century physicians concerned with the treatment of mental disorders concurred. They consistently advocated an immersion in natural scenery for its curative potential. Painted landscapes were believed to offer benefits analogous to those of the parks. According to the proprietors of the American Art-Union, an organization active in the 1840s and early 1850s and dedicated to promoting the work of American artists. Art-Union officials seem to have regarded Durand's landscapes as providing these benefits since they purchased a number of his works for distribution in their annual lottery.
In the mid-nineteenth century a consensus formed not only around the curative power of nature, but also around the particular types of landscapes best calculated to achieve it. Those landscapes with the most positive healing impact were believed to be naturalistic rather than geometric in design, thus offering a respite from the rigid, confining grid layout typical of American cities, including New York. Among the established categories of naturalistic landscape design, the Beautiful (also known as the Pastoral) was more closely associated with therapeutic effect than the Sublime or the Picturesque. These three landscape types had been defined by such eighteenth- and early nineteenth-century century aesthetic theorists as Edmund Burke, Sir Uvedale Price, and William Gilpin. Each type was distinguishable by both its formal qualities and its psychological and physiological impact on the observer.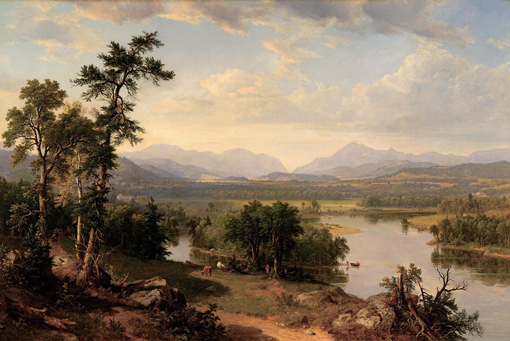 Asher B. Durand.
White Mountain Scenery, Franconia Notch, New Hampshire
, 1857
The New–York Historical Society
With very few exceptions, the vast majority of Durand's works offer his viewers immersion in serene, expansive landscapes composed in the Beautiful mode. Like Downing and Olmsted, Durand also combines feelings of enclosure and expansiveness in his landscapes. Absorption too was as essential to Durand's landscape paintings as it was to the planted landscapes. Like the designers of the cemeteries, parks, and asylums, Durand felt that for a landscape to work its healing effects, the viewer must become immersed in the scene. As he put it, the observer must "look into the picture instead of on it." To him, the quality of a picture was directly related to its absorptive powers. "That is a fine picture," he wrote, "which at once takes possession of you–draws you into it–you traverse it–breathe its atmosphere–feel its sunshine, and you repose in its shade without thinking of its design and execution, effect or color."
In Durand's paintings, the skies are almost always clear and the season is consistently summer. He made those choices with their psychological impact–their healing potential–in mind. Abundant evidence suggests that nineteenth–century viewers responded to Durand's paintings in much the way that he hoped. Fellow painter Daniel Huntington described Durand's Sunday Morning (1860, New Britain Museum of American Art, New Britain, Conn.) as a "consoling picture... suggesting to the mind that stillness and feeling of sacred rest which is often experienced on a calm Sunday morning in a beautiful country." For Durand's contemporaries, his were healing, soothing, therapeutic pictures indeed.

(Extracted from "Nature is a Sovereign Remedy": Durand and the Therapeutic Landscape, by Rebecca Bedell, in the catalogue)