Digital exhibitions are unable to convey the physical experience of art because they only present images that are virtual, and thus resemble ghosts and spirits.
But beyond this self-evident observation, what do digital exhibitions consist of? The Fundación Juan March presents its first, The Mondrian Affair, dedicated to Piet Mondrian (Amersfoort, 1872-New York, 1944), an artist radically linked to the avant-garde as well as spiritualism, whose work – since his death – has flourished in both high culture and mass culture.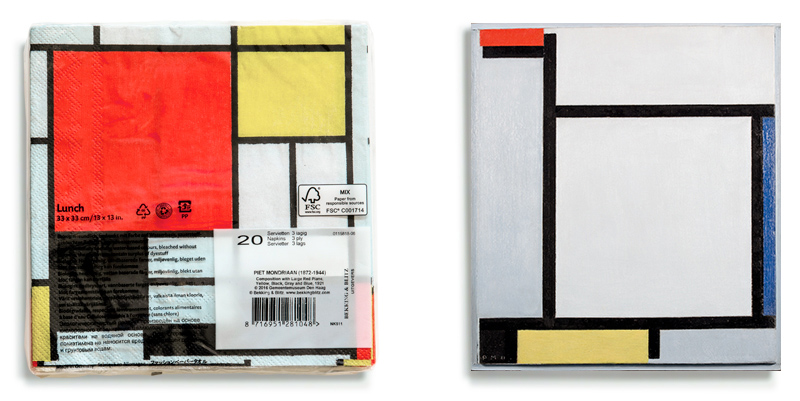 Servilletas con la Napkins printed with Piet Mondrian's Compositie met groot rood vlak, geel, zwart, grijs en blauw [Composition with Large Red Plane, Yellow, Black, Grey and Blue], 1921 © Bekking & Blitz; and Piet Mondrian, Compositie met rood, blauw, zwart, geel en grijs [Composition with Red, Blue, Black, Yellow and Grey], 1921. Gemeentemuseum Den Haag, The Hague © Gemeentemuseum Den Haag
The Mondrian Affair is firmly grounded in the phantasmal nature of digital images of artworks on the internet and the equally phantasmal nature of the online traces of the lives of the artists who created them (for this show, the curators track down clues like forensic scientists).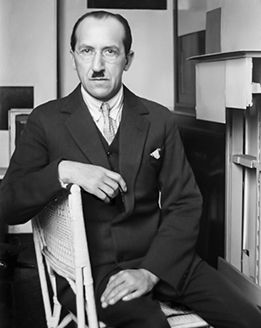 Piet Mondrian in his studio, Paris, 1926 Photo: André Kertész © André Kertész/Higher Pictures
And instead of the often-vain effort to merely recreate a virtual version of physical realities, the exhibition presents the life and work of Mondrian by conjuring up an episode from the past: the first exhibition dedicated to his work in Spain, organized by the Fundación Juan March in 1982. In a kind of exercise in ghostly curation, the foundation's archives, like a haunted house, reveal mysterious treasures, voices (in this case those of Max Bill and Harry Holtzman, digitally conserved in our archive), and ghosts from the past eager to communicate with us.
Related activity
La exposición explicada - Friday 6 November. 18:30