In Artistic Disorder
The exhibition is comprised of eleven oil paintings drawn from a range of private collections, some of which have never before been displayed in public. The paintings on display represent tables on which artists arranged a repertoire of foods —sometimes exquisite and exotic— as well as valuable objects "in artistic disorder," as Teresa Posada Kubissa, Curator of Flemish Painting and Northern Schools (to 1700) at the Museo Nacional del Prado, explains in the publication which accompanies the exhibition.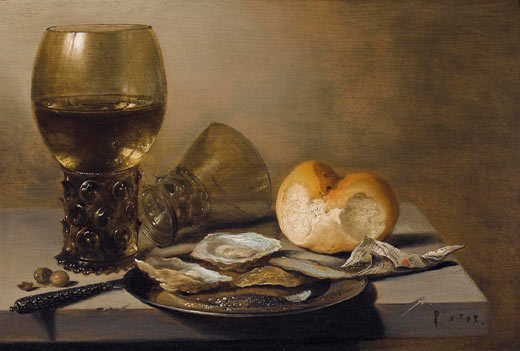 Pieter Claesz
Still life with Römer cup, bread and oysters
, 1643
These works attest to the artists' mastery in describing and recreating different textures, the effects of light on silver and glass, and shadows: atmosphere is conveyed in these miniscule scenes in which domestic life seems to slow its pace, becoming calm and peaceful. In Spanish, these compositions are inaccurately known as "bodegones" or "naturalezas muertas," terms that draw on an erroneous translation to the French of stilleven, the original Dutch word used to refer to the genre from the17th century onwards. Following a literal translation of stilleven, it becomes clear these paintings actually illustrate the "immobile or still lifes" (as they are accurately called in English) of things, of objects that conceal a world of different meanings intended to express moral sentiments and at the same time arouse the senses.
Still lifes were first painted across the Netherlands in the early 17th century. However, on account of the political division of the territories in 1581, it was in the new independent state of Holland that the iconoclasm of the Calvinist Reformation inclined artists to follow to a more descriptive and domestic style of painting, resulting in the development of the genre and its typologies. Although the exhibition showcases a small number of paintings, it successfully covers this stylistic development: from Osias Beert, the forefather of the genre (on display is a painting dating from 1610), through two of the style's main exponents —the mysterious Clara Peeters y Floris van Dijck— to Jan Davidsz de Heem (among his works is a painting dating from 1651), who continued the tradition of painting "monochrome tables", first created by Willem Heda and Pieter Claesz. in the late 1620s.