The show analyzes the visual representations of art history brought forward by artists, critics, designers, theorists and poets alike, from the first family trees of art dating back to the Middle Ages, all the way through to current virtual media presentations.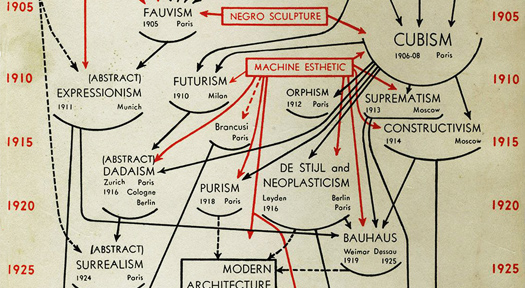 Diagrama de Alfred H. Barr para el catálogo de la exposición Cubism and Abstract Art (detalle) (1936)
At the core of the exhibition is the three-dimensional reconstruction in the venue of the famed chart that Alfred H. Barr composed for the cover of his exhibition Cubism and Abstract Art (MoMA, 1936), with which the first director of the museum sought to make visible the origins of abstract art from 1890 to 1936. The exhibition replaces such references in the diagram with real works of art, putting its visual plausibility to the test. More than 350 works-paintings, sculptures and diagrammatic representations- are comprised in this exhibition, produced jointly with the Museo Picasso Málaga.