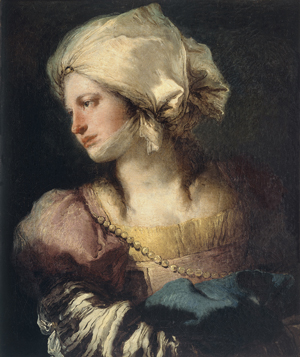 Portrait of a Woman in Profile
(presumed to be Anna Maria Tiepolo)
, c. 1768
With the aim of offering, together with our larger exhibitions dedicated to specific artists and movements, select smaller–scale shows, the Fundación Juan March presents Giandomenico Tiepolo (1727–1804). Giandomenico was the brother of Lorenzo Tiepolo, and both were the sons of Giambattista Tiepolo, the patriarch of their artistic dynasty–the "Tiepolo factory", in the words of Andrés Úbeda. The three artists had moved to Madrid in 1762, where their principal task was the creation of decorative frescoes on various ceilings in the Royal Palace.
These ten paintings of great beauty, all of which are from a private collection, were in all likelihood conceived of as a series, given their stylistic unity, their identical size, and the similarity in the figures' dress and poses. They represent ten heads: two old, bearded men with an eastern air; and eight beautiful young women. They can all be dated to around 1768, during the artist's Spanish period. Strictly speaking, they are not true portraits; rather, these figures, wearing different adornments and striking various poses, do not represent real individuals but generic types with the characteristic features and attributes of a certain social, economic and intellectual group. Thus, the male portraits present their models in the manner of philosophers, wise, honorable men from an imagined Antiquity, while the portraits of young women, characterized by carefree and innocent charm, would seem to reflect an ideal paradigm of feminine beauty. Both types belong to a long and fruitful tradition in Venice: a genre that conjures up a world of the imagination whose roots are to be found in the seventeenth century, a type of painting whose master par excellence was Rembrandt himself.
The exhibition is completed with a book, Eight women and two men, with essays by Andrés Úbeda de los Cobos, Chief Curator of Italian and French Painting in the Museo Nacional del Prado, which shed light on the historical and aesthetic contexts of these mysterious, little–known works, "one of the least studied chapters in the history of this dynasty of artists," and never before exhibited in public.