British art, strikingly universal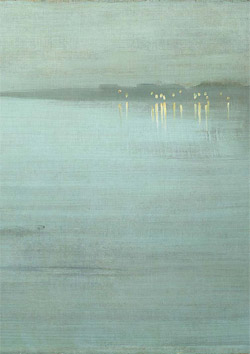 Nocturne:
Blue and Silver-Cremorne Light
, 1872
British art, we learn in this catalogue's main essay, by Richard Humphreys, guest curator of this exhibition, is what we find in 1477 in Eton College; in the distant Indian village of Pomeiooc in North America in 1585; in St Paul's Cathedral, London, around 1712; in Lucknow, India, in 1784; in Roger Fry's Omega Workshops in 1913; in the Whitechapel Gallery in London in 1956; or in Francis Bacon's studio in South Kensington, London, in the 1960s.
Indeed, without falling into the trap of facile and dubious readings of national "physiognomies" or "psyches" in works of art, our approach in this exhibition leads to what might be a surprising initial discovery: far from the rigid corset implied by national schools or by belonging to a country, a state, a nation or an empire, in British art one perceives a kind of "universal localism". A considerable number of foreign artists made Great Britain their home and their place of work. (Wyndham Lewis himself was born off the coast of Nova Scotia in the yacht owned by his father, an American.) In this way, a chronicle of British art presents it from the outset as strikingly universal. Though the features of British art are undeniably unique and particular, the work of the most prominent artists in Britain was born and evolved alongside more general historical and artistic events.
After reading the book The Tate Britain Companion to British Art (2001), by Humphreys, what developed was the idea of designing a kind of "companion-to" show, in imitation of that very Britannic genre of books that provides an introduction to some branch or corner of knowledge and its appreciation – in this case a Fundación Juan March Companion to British Art, an effort to select and gather a series of works that could guide and accompany viewers and readers in their tour through five centuries of British art. This aesthetic tour, replete with literary references, ranges from the iconoclasm of the sixteenth-century Puritans and the secular art of Hans Holbein to the work of true icons of recent British art such as Henry Moore, Francis Bacon, David Hockney, Peter Blake, Richard Hamilton, and Richard Long.