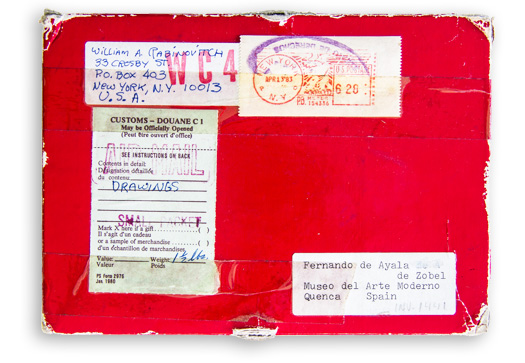 WC4 Box'83, various artists (100 artists)
New York, Ruhe, 1983. Collection of the Fundación Juan March
From July 23rd through August 30th, the Juan March Foundation of Madrid will present a small exhibit titled Artists' (Books and Other Publications), 1947-2013, an exhibition which takes as its point of departure this ample and heterogeneous field, enriched during the last two centuries by the fruitful relationship between the artist and the book, and publications in general.
The exhibited books and magazines are drawn exclusively from the collection of the Juan March Foundation. With works as disparate as John Franklin Earhart's 1892 monograph, The Color Printer and a re-edition of Julio Cortázar's Último Round, the exhibition presents a journey through nearly a century of "publications" appearing between 1947 (Du Cubisme de Albert Gleizes y Jean Metzinger) and 2013. These works are testament to the wealth and variety of the outcome of the long established interaction between artists and the book, the latter understood not only as a medium for transmitting textual content, but above all as an object and significant support of artistic praxis.
Perhaps, regarding artists' books and publications of the last century up to the present day, one could paraphrase the German writer Kurt Tucholsky on Joyce's Ulysses: he opined that it was "pure liver extract. It is inedible,"however, he added, "in the future many soups will be prepared thanks to it."
The exhibition's narrative begins by articulating the publications linked to the activity of the Juan March Foundation, with examples drawn from donations made to the Foundation from the libraries of Fernando Zóbel (1981) and Julio Cortázar (1993), and also includes a diverse sampling of Spanish art publications. The account closes with various examples of artists' books and other publications printed during the 1970s and on, within both the Spanish and international contexts.
The exhibit's interrogatory tone, which accompanies any project having as its focus the exhibition of books, has guided the current endeavor since its inception. The result, Artists' (Books and Other Publications), 1947-2013, proposes that its audience maintain this tone before a series of objects that, on occasion, only seem to have in common what one could call "will to form" (kunstwollen). The exhibition shows a body of work full of surprises that will foster the imagination, from objects in which image accompanies text, to others in which the image supplants or appropriates it, and finally to others where the image completely invades text, adopting forms that altogether subvert the conventional pagination and sequential order of traditional books.