The exhibition shows works by Pablo Picasso, Pierre Bonnard, Raymond Queneau, Rafael Alberti, Antoni Tàpies, Antonio Saura, Joan Brossa, Fernando Zóbel, Pablo Palazuelo, Salvador Dalí, Julio Cortázar, Octavio Paz, Brassaï, Gustavo Torner, Eduardo Chillida, José Guerrero, Manuel Millares, Manuel Hernández Mompó, Luis Feito, Lyonel Feininger, Sol LeWitt, Juan Eduardo Cirlot and Eusebio Sempere, among others. The exhibit also consciously interweaves representative examples of collaborations between visual artists and poets, such as Joan Brossa and Antoni Tàpies' Novel.la (Sala Gaspar, Barcelona, 1965) and Rafael Alberti and Manuel Millares' Mutilados de paz (Madrid, 1965).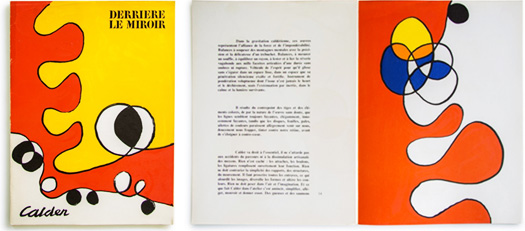 Derrière le miroir, nº 173 dedicated to Alexander Calder
Paris, Galerie Maeght, 1968. Collection of the Fundación Juan March
Also on display are book-objects, among them Octavio Paz's Discos Visuales (México, Era, 1968) and Vrindaban (México, Imprenta Madero, 1965), and Raymond Queneau's celebrated Cent mille milliards de poèmes (Paris, Gallimard, 1961). Additionally, the exhibition includes artists' publications, such as Fernando Zóbel's Libro de horas (Manila, 1965) and Pablo Palazuelo's Ardicia (Paris, RLD éditeur, 1978) and experiments in mail art, for example the box of 100 postcards by artists associated with WC4 Box'83 (New York, 1983).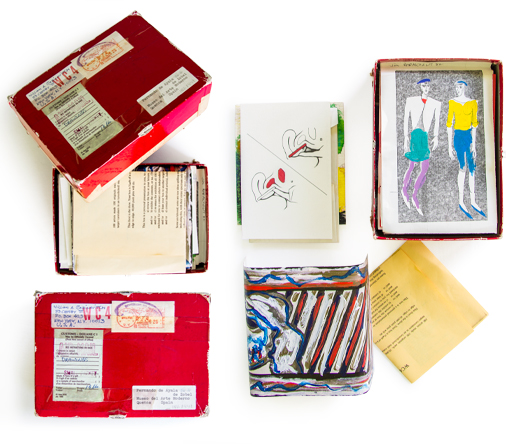 WC4 Box'83, various artists (100 artists)
New York, Ruhe, 1983. Collection of the Fundación Juan March
The exhibit's interrogatory tone, which accompanies any project having as its focus the exhibition of books, has guided the current endeavor since its inception. The result, Artists' (Books and Other Publications), 1947-2013, proposes that its audience maintain this tone before a series of objects that, on occasion, only seem to have in common what one could call "will to form" (kunstwollen). The exhibition shows a body of work full of surprises that will foster the imagination, from objects in which image accompanies text, to others in which the image supplants or appropriates it, and finally to others where the image completely invades text, adopting forms that altogether subvert the conventional pagination and sequential order of traditional books.