This exhibition offers a complete survey of the career of the German-American artist Lyonel Feininger, a Bauhaus teacher and a key figure in the context of the artistic avant-gardes.
Feininger was born in New York but his parents, both musicians of German origin, sent him to Hamburg at the age of sixteen to complete his musical training. This dual German-American background would leave a permanent mark on his life and work.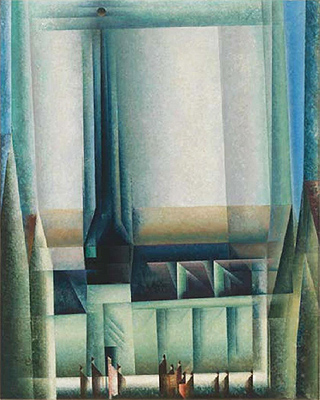 Gelmeroda VIII, 1921. Whitney Museum of American Art, Nueva York. © Whitney Museum, N.Y.
In Germany, Feininger decided to give up music in order to devote himself to his true passion: drawing and illustration. After attending drawing classes at the Algemeine Gewerbeschule [Public School of Arts and Crafts] in Hamburg he focused on the emerging field of comics, in which he would be a pioneering figure. Feininger's comic strips were soon published, albeit sporadically, in American and German magazines. He became fully established when he signed contracts with the German magazine Ulk in 1895, Lustige Blätter[Funny Pages] the following year, and The Chicago Sunday Tribune in 1906. For the latter Feininger created The Kin-der-Kids and Wee Willie Winkie's World, his most famous comic strips.
Having made his name as an illustrator, Feininger moved forward creatively with the aim of finding a means of expression that would allow him to fully express his abilities. In a natural, progressive manner he began to move away from comics in favour of painting. While his earliest works maintain links with comic design, depicting street scenes and exaggerated characters, between 1906 and 1908 and following a period in Paris, he began to make use of a more abstract line, almost completely abandoning figures and adopting a language based on straight lines and fragmented planes of colour.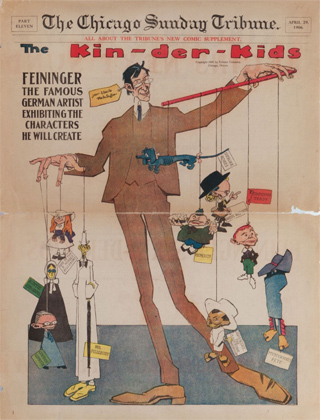 Front cover of The Chicago Sunday Tribune with a satirical image of Lyonel Feininger, April 29, 1906. Collection of Achim Moeller, New York. © Achim Moeller (The Lyonel Feininger Project, Nueva York-Berlín)
In 1919 Walter Gropius invited Feininger to join the Bauhaus and direct the printmaking studio, where he taught until the school was closed down by the Nazis in 1932. This experience led him to fully develop his use of the technique of woodcut, allowing him to develop the interaction of spatial planes in his paintings. Following the rise to power of the Nazi regime Feininger's work was classed as "degenerate". In 1937 he decided to return to the United States where he spent the rest of his life.
In 1919 Walter Gropius invited Feininger to join the Bauhaus and direct the printmaking studio. […] Following the rise to power of the Nazi regime Feininger's work was classed as "degenerate".
The exhibition Lyonel Feininger (1871-1956), which continues the Juan March's long-established strategy of presenting insufficiently explored artists, periods and aspects of modern culture, can be described as a "concentrated retrospective" of the artist's work. Nearly 400 works from public and private collections in Europe and the United States will be used to construct a survey of Feininger's artistic activities, articulated around the different media in which he worked (drawing, graphic work, painting, photography and toy-making) and the principal themes within his oeuvre: caricature and satirical drawings; key places that inspired him, including Paris, Deep, Halle, Gelmeroda and Manhattan; and his recurring interest in bridges, towers, sea views and urban life.
The catalogue that accompanies the exhibition will be the first monograph on Feininger in Spanish, with essays and texts by some of the most reputed experts on his work, including Wolfgang Büche, Ulrich Luckhardt, Maurizio Scudiero, Heinz Widauer, Peter Selz, Achim Moeller, Danilo Curti-Feininger, Martin Faass and Sebastian Ehlert. To complement the catalogue there will also be a semi-facsimile complementary publication La ciudad en los confines del mundo [City at the Edge of the World], originally published in 1965 in English and German, with texts by the painter T. Lux Feininger and photographs by Andreas Feininger, two of the artist's three sons.