Paul Klee and his pedagogical work at the Bauhaus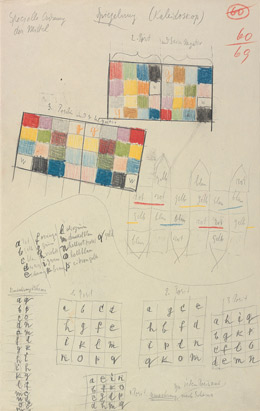 Paul Klee
I.3 Special order
Paul Klee undertook all his investigations with a decidedly pedagogical objective. His texts sound markedly didactic. They are, after all, the "lecture notes" with which Meister Klee prepared and presented his classes at the Bauhaus in Weimar and then in Dessau, where he taught, along with Wassily Kandinsky, Lothar Schreyer and Oskar Schlemmer, from 1921 to 1931.
During that decade, Klee prepared his classes on bildnerische Formlehre ("theory of pictorial form") and created more than 3900 handwritten pages of material with notes for his classes, which he designate. It was at the Bauhaus, with that institution's particular and novel approach to theoretical and practical teaching and its break with the traditional role of the applied arts, where Klee developed his own pedagogical methods, by which he transmitted to his students the fundamental principles of formal configuration—that is, what we might more conventionally call "design." And although Klee was not teaching future artists, per se (the students at the Bauhaus were, in Klee's words, "Bildner, werktätige Praktiker," creators, shapers of material, working practitioners), and he was convinced that art could not be taught in the same way one teaches theoretical disciplines or pure applied arts, his contributions as a teacher emerged, logically, alongside a meditation on his own pictorial work—which has since influenced entire generations of artists around the world.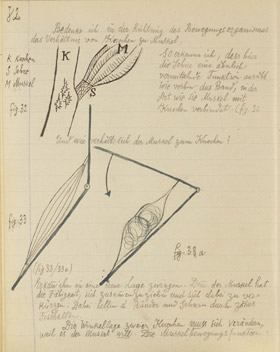 Paul Klee
Contributions to the theory of pictorial form
That enormous accumulation of teaching notes is not, of course, a kind of archive of preparatory drawings or a supply of sketches that Klee could use for his works.
However, it is obvious that Klee did not exclusively compartmentalize the activities of reflection, teaching, and artistic creation. On the contrary, he devised his theories and developed his teaching on the foundation of his own work as an artist. In this way, his theory and his artistic practice continually rub up against each other, producing mutual echoes—as, for example, when we observe him playing freely in his drawings of geometric constructions with the same processes of configuration that we find in his notes.
In short, a reciprocal reverberation emerges between Klee's artwork and his notes. Considered in unison, his works and his reflections form a kind of pictorial analogue to a violin's soundbox, enormously rich visually and also of great interest theoretically.