Klee, again, anew: a transversal approach to his work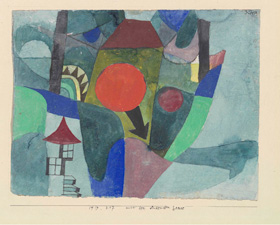 Paul Klee
With the sinking sun
, 1919
Paul Klee: Master of the Bauhaus is the second exhibition that the Fundación Juan March has devoted to the Swiss artist since the one it organized several decades ago, in 1981, which was the second exhibition focusing on Paul Klee ever held in Spain. That show, which enjoyed the collaboration of the artist's son, Felix Klee, the Paul-Klee-Stiftung in Bern and the Beyeler gallery in Basel, featured 202 works, including oil paintings, watercolors, drawings and prints. The first exhibition on Klee had been held in 1972 at the Palacio de la Virreina in Barcelona and the Museo Español de Arte Contemporáneo in Madrid, with sixty-one works from the Kunstsammlung Nordrhein-Westfalen in Düsseldorf. Since those two pioneering shows, exhibitions on Klee in Spain happily have returned with relative frequency, with seven in the last four decades.
In the face of this succession of exhibitions, whose frequency extends to notable international exhibitions over the last decades, one might legitimately ask: Why Klee again? The relevance and opportuneness of an exhibition such as this one perhaps may be explained on the basis of a distinction between the narrowly "thematic" approach behind the majority of exhibitions referred to as "thematic," versus an approach that does not necessarily exclude thematic orientations but that might more properly be called "structural." This latter sort of exhibition is grounded on a fundamental attention to a "transverse" or "operative" facet of the artist's work—an essential factor that "cuts through" his or her entire oeuvre, in contrast to the cultivation of certain subjects or themes in specific periods.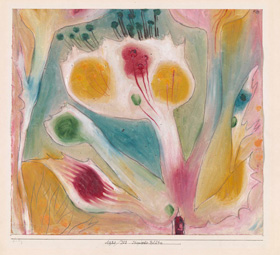 Paul Klee
Tropical blossom
, 1920
Paul Klee: Master of the Bauhaus is an exhibition of this latter variety. It is the result of a project undertaken in June of 2009, when the Fundación Juan March received news that the Zentrum Paul Klee (with which the Fundación shared fond recollections of that pioneering exhibition from the 1980s as well as more recent collaborations) had proposed to embark upon a research project that was truly striking in its relevance. This effort, a complete critical edition of Paul Klee's so-called "pedagogical legacy," did not necessarily demand a parallel exhibition, but it certainly did not exclude that possibility.
The German art historian Will Grohman wrote in 1954 that "The moment to definitively assess Klee's artistic teaching will have arrived once the main parts of his pedagogical legacy have been published." Over a half-century later, the publication of not just certain essential parts, but of that Nachlass, or legacy, in its entirety has become the objective of a research project. It proved, indeed, to be a more than ideal opportunity to prepare a second exhibition focusing on Klee that would combine a presentation of the Swiss artist's fascinating and influential work with attention to a "structural" aspect—an approach that is at once novel and decisively illuminating in the way it sheds new light on Klee's artistic theory and practice.
Paul Klee: Master of the Bauhaus is a model project. It presents a very clear example of the sort of "second look" characteristic of projects that in other contexts we have referred to as "thesis exhibitions"—which, rather than offering a thematic orientation, present an argument, with a focus that is more specific and differentiated than generalizing. Such exhibitions aspire to expand our knowledge at the same time as they encourage the aesthetic enjoyment of a master's work.
For this reason, Klee is in Madrid again, anew. It is hardly a coincidence that a smaller version of this exhibition will appear at the Bauhaus Dessau in the summer of 2013, thus making its return to what was the second headquarters of that pioneering institution of modern education in which Paul Klee masterfully developed his influential pedagogical activity and his fascinating reflections on the life of forms.