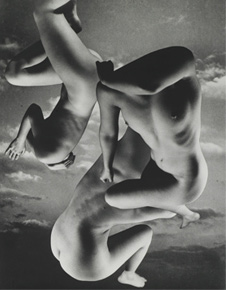 Pierre Boucher
Falling bodies
, 1936-37
Dietmar Siegert collection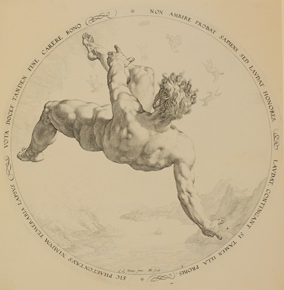 Hendrik Goltzius, after Cornelis van Haarlem
The Fall of Phaëton
, 1588
Germanisches Nationalmuseum, Núremberg
This exhibition presents a selection of nearly two hundred drawings, prints, photographs, books, and other publications, from the late Middle Ages to twentieth-century Surrealism. Organized in conjunction with the Germanisches Nationalmuseum in Nuremberg and curated by Yasmin Doosry, it includes works by, among others, Martin Schongauer, Albrecht Dürer, Erhard Schön, Matthias Zündt, Wenzel Jamnitzer, Hendrick Goltzius, Jaques Callot, Giovanni Battista Piranesi, Francisco de Goya, Max Klinger, Alfred Kubin, Paul Klee, Hannah Höch, Pablo Picasso, Joan Miró, Salvador Dalí, Herbert Bayer, Hans Bellmer, André Masson, Brassaï, and Maurice Tabard.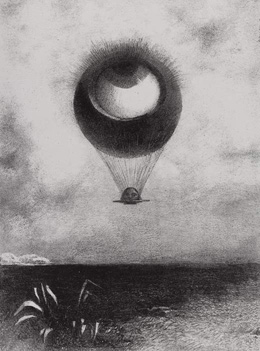 Odilon Redon
L'oeil, comme un ballon bizarre, se dirige
vers l'infini
, 1878
Gemeentemusum, La Haya
The exhibition follows the groundbreaking trail of the now legendary exhibition organized and curated by Alfred H. Barr, founding director of the Museum of Modern Art in New York seventy-five years ago: Fantastic Art, Dada, Surrealism. That exhibition juxtaposed, for the first time, works by contemporary artists with those of Hieronymus Bosch, Giuseppe Arcimboldo, Giovanni Battista Piranesi, William Hogarth, Francisco de Goya, J. J. Grandville, and other artists from the recent and remote past, with the aim of giving Surrealism its own artistic genealogy. Undeniably, the Surrealists' artistic sensibility and their techniques and approaches focused the museum-going public's gaze on a long tradition of subjective art, from the medieval period, through Mannerism and the Baroque, to modernity.
The exhibition and its accompanying catalogue (published in Spanish, English, and German) have been divided into eleven sequences: 1. The Inner Eye; 2. Magical Spaces; 3. Changing Perspectives; 4. Composite Figures; 5. The Constructed Human Being; 6. The (Dis)order of Things; 7. Capriccio; 8. Metamorphoses of Nature; 9. Phantasmagorias; 10. Shadows of Shadows; and 11. Day Dreams, Night Thoughts.
The catalogue includes texts by Yasmin Doosry, Juan José Lahuerta, Rainer Schoch, Christiane Lauterbach, and Christine Kupper.