Fantastic art and Surrealism in their history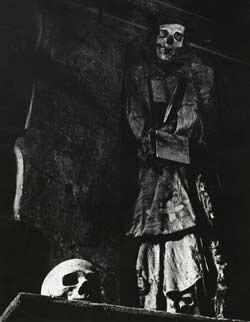 Herbert List
Capuchin Catacombs of Palermo,
no. 7, (Beneath the Lantern),
, 1955
Dietmar Siegert collection
For centuries, artist have striven to eliminate, by means of the powers of their imagination, the boundaries between the subjective, inner world, and the world of outward appearances, fusing the quotidian with the inconceivable. Often, their individual fantasy, directed towards the fantastic, has carried them to unknown territories, beyond the limits of social convention and prevailing academic norms. For this reason as well, fantastic art and Surrealism have a historical dimension. They feed, in equal measure, on human fears (for instance, in the tradition dating to the Middle Ages, of infernal punishments in the afterlife) and on aesthetic delight in formal richness (for instance, in that of ornamental art); on curiosity and enthusiasm for knowledge derived from the natural sciences beginning in the early modern period; and on the artistic virtuosity in the tradition of the Mannerists.
By configuring magical spaces, fetishizing the world of objects, turning natural phenomena into hieroglyphs, or representing irrational states of mind, artists have created contradictory, enigmatic images brimming with visual and thematic elements that ensnare the viewer's imagination, making the unknown visible. With their interest in the unusual and the singular, the Surrealists focused their gaze, like no other artistic movement before them, on that long tradition of non-conformist, subjectivist art. The origin of their attitude in this regard was due, paradoxically perhaps, to their desire to break with normative rhetorical models and with ideas from the past, and to their objective of creating new realities.
The exhibition, Surrealists before Surrealism follows this path from the late Middle Ages to twentieth-century Surrealism through a selection of nearly two hundred drawings, prints, and photographs. Its emphasis on the graphic arts in particular is owing in large part to the fact that precisely those media are ideally suited for spontaneous forms of individualistic expression.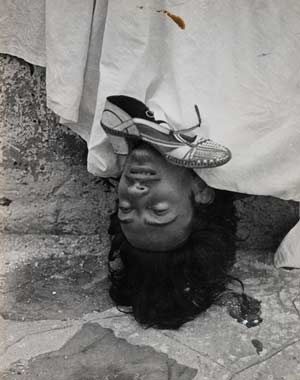 Man Ray
Salvador Dalí Upside-Down in Portlligat
, 1933
Fundació Gala-Salvador Dalí
In this exhibition, the viewer can contemplate work by, among others, Martin Schongauer, Albrecht Dürer, Erhard Schön, Wenzel Jamnitzer the Elder, Hendrick Goltzius, Francisco de Goya, Odilon Redon, Max Klinger, Paul Klee, Hannah Höch, Pablo Picasso, André Masson, Salvador Dalí, Man Ray, Max Ernst, and Hans Bellmer. Their creations are representative of the enormous iconographic wealth offered by the artistic discoveries of the fantasy and the genre of fantastic art.
The majority of works on display hail from the holdings of the Germanisches Nationalmuseum's graphic arts collection, supplemented by works from the Fundación Juan March as well as from important public and private collections in Spain and elsewhere in Europe.