Albacete began to develop his pictorial style in the early 1980s, a time when painters fought to return to the forefront of the Spanish art scene, then dominated by conceptual trends and the new approaches that had emerged in the previous decade. Halfway between abstraction and figuration, Albacete's work explores the possibilities of color as it reduces figures to their essential elements. Even if the artist has followed several different paths throughout his career, his inquisitive nature has remained a constant of his work.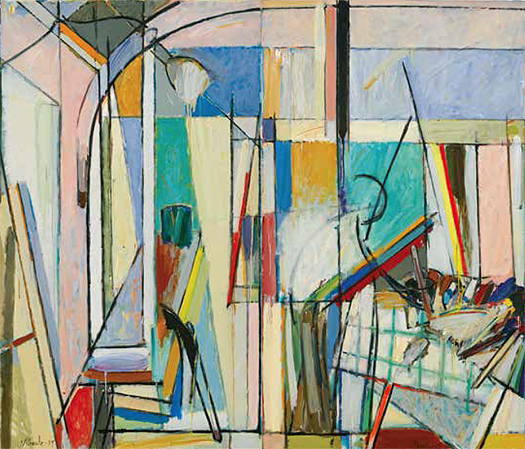 En el estudio [In the Studio], 1979
The painting En el estudio belongs to Albacete's early period, during which he confirmed his identity as a painter. In it he combines constructivist techniques, evident in the fine, regular lines that arrange and divide the composition, with the new methods of American painting, as witnessed by the fields of color in contrasting tones.
Gustave Courbet's painting L'Atelier du peintre [The Artist's Studio, 1855] was a popular theme among many painters, including Pablo Picasso. This subject not only allowed artists to represent the space where they worked on a daily basis, but also enabled them to provide a symbolic depiction of their weaponry and domains. Here, Albacete adopts Courbet's theme and creates several recognizable elements: a window, an archway leading to the studio, an easel, stacked canvases, and the artist leaning over a table as he prepares the paint. However, these elements, and even the figure itself, lack physical presence, as they neither cast shadows nor have volume. This is due to the fact that Albacete did not intend to create a "figurative" painting, but a representative emblem of his work.
Javier Maderuelo
Este texto sólo puede reproducirse citando su procedencia:
Catálogo del Museu Fundación Juan March, Palma de Mallorca.