Alfaro studied at the School of Fine Arts in his native Valencia. He was a founding member of Parpalló, a group that contributed greatly to the revival of the Spanish art scene in the 1950s. Alfaro started working in the footsteps of the constructivist tradition—he was an admirer of Jorge Oteiza—and later aligned with American minimal art, successfully managing to combine these ideas in his abstract sculptures with a somewhat Mediterranean inclination towards excess, ornamentation and mannerism. Though he also worked with stone in his later years, his oeuvre consists mostly of sculptures in stainless steel, a material he used to examine the effects of repetition and serialization, mainly through sequences of metal rods.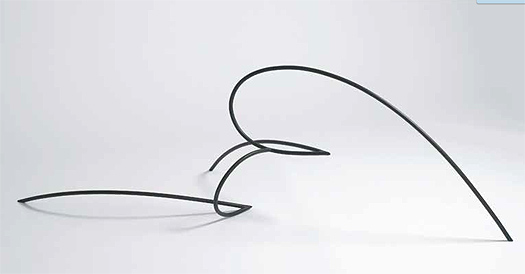 Figura aixecant-se [Rising Figure (b)], 1984
Since the 1960s, Alfaro's work was defined by his commitment to moral and civic values. The titles of his sculptures reflect his belief that, through his abstract work, he could help make things change. Victòria de la Bahía de Cochinos [Victory at Bay of Pigs, 1962], Homenatge a Joan XXIII [Homage to Pope John XXIII, 1964], or Homenatge a la llibertat de consciència [Homage to Freedom of Conscience, 1964] are good examples of this belief.
Alfaro executed several monumental sculptures for cities such as Venice, Barcelona, Madrid or Santa Cruz de Tenerife (Canary Islands). In 1984 his work was featured in Palma (Majorca) in an exhibition held concurrently at Parc de la Mar and the Fundación Bartomeu March.
The title of this sculpture, Figura aixecant-se (b), indicates its figurative nature, revealing that, in spite of its floating appearance, it has much in common with a drawing. Even if the sculpture is reduced to a few abstract, curved lines, the spectator senses the presence of a tense figure preparing to rise from the ground.
Este texto sólo puede reproducirse citando su procedencia:
Catálogo del Museu Fundación Juan March, Palma de Mallorca.