Arroyo's style of painting is characterized by what could be termed "narrative figuration" His paintings do not represent random scenes—instead they tell a story, made recognizable to the spectator through a series of iconographic elements, much in the style of baroque painting. Moreover, the story usually contains either direct or indirect references to Arroyo's own personal history. Further examples of his artistic genius are his portraits, in which he portrays characters with just a few concise strokes of the brush and an array of the most unusual elements.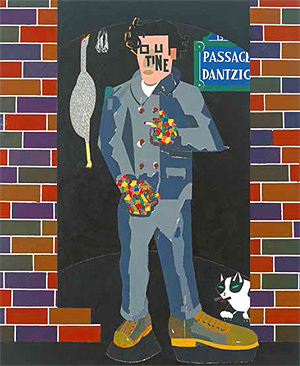 Pasaje Dantzig, 2 (Soutine), 1993
The painting 2 Passage Dantzig (Soutine) is a fine example of his ability to represent characters and tell stories, as well as to project his own personality onto the subject. As noted in the title, the man depicted in the painting is Lithuanian artist Chaïm Soutine, whose facial features have been replaced by the letters of his name. However, even if the viewer did not know who the individual was, his identity is also implied by a series of iconographic references: his hands, represented as blotches of paint, point to his profession, and the traditional street plaque on the top right of the painting points to the fact that the scene takes place in Paris, more specifically in Passage Dantzig—a picturesque building called La Ruche, home to several avant-garde artists, was located at number 2 of this passageway, yet only one of these artists was known for hanging pieces of meat from his window in order to use them as the subject of his painting. But these clues also point to Arroyo, who, like Soutine, lived in exile in Paris, and who was part of the group L'Abattoir [The Slaughterhouse], as implied by the hanging chicken, and approached painting in a committed and straightforward manner.
Javier Maderuelo
Este texto sólo puede reproducirse citando su procedencia:
Catálogo del Museu Fundación Juan March, Palma de Mallorca.