Winner of the Príncipe de Asturias Award for the Arts in 2003, Barceló is the leading Spanish artist of his generation. He first became known on account of the exhibition Otras figuraciones [Other Figurations], organized in 1982 by La Caixa in Madrid, when the artist, who then lived in Barcelona, was only twentyfive years old. From that moment on things happened quickly for Barceló: he participated in Kassel's Documenta; he exhibited his work in Naples (Galleria Lucio Amelio) and Paris (Galerie Yvon Lambert); he signed a contract with Swiss art dealer Bruno Bischofberger; and he was introduced to the New York art scene by Leo Castelli—all of this took place against the backdrop of emerging trends such as the Italian transavantgarde and the German new fauves.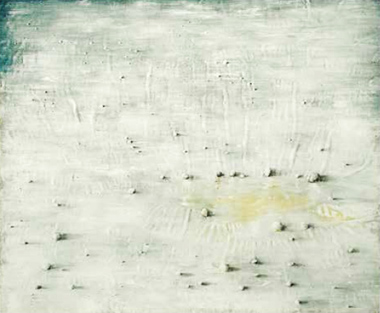 La flaque [The Pond], 1989
In the early 1980s Barceló's highly textured canvases—which were populated by domestic animals and painted in a free-and-easy manner— still conveyed a somewhat aggressive and incendiary tone, reminiscent of his conceptualist period, of the time he spent working on the magazine Neón de Suro and of his show Cadaverina 15, held at the Museo de Mallorca in 1976. But it didn't take long for him to set aside this defying approach, proving to be an artist with a strong vocation for painting: an educated and relatively traditional painter who enjoyed depicting figures, still lifes, landscapes and seascapes. Then came his spectacular series on Libraries (1984) and the Musée du Louvre (1985), which include self-portraits of the artist and testify to his growth as an artist. In addition to cities like Paris or New York, with their libraries and museums, Barceló's personal geography encompasses a host of peripheral areas: his native island of Majorca; Vilanova de Milfontes, a coastal town in Portugal where he spent part of 1984; Gao, on the banks of the Niger River in Mali; and Tangiers, where he met Paul Bowles, among other places.
La flaque is one of the works Barceló completed following his first trip to Gao in 1989—his exhibitions of that year were built around these pieces. As the title indicates, the "incident" that triggered the work is a pool of water in the desert, a mirage, a "chimerical horizon." Tension arises from the contrast between the materials employed and the empty, white, translucent surface the artist strives to create in an almost spiritual quest. As Barceló himself was the first to remind us, he was "too old to play a young Rimbaud."
Javier Maderuelo
Barceló's international success stems to a great extent from the expressive qualities of the materials he uses, his original repertoire of themes, and his technique, which is based on resources such as the mastery of aerial perspective—as appreciated in the desert view of La flaque [The Pond, 1989], a difficult landscape to depict—and the skillful transition from small scale images to cosmic views, enabling him to represent both commonly available objects and vast areas, such as the sea, with its limitless masses of water.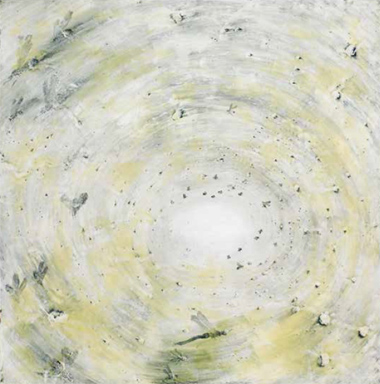 Constel·lació núm. 4 (Forat blanc)
[Constellation 4 (White Hole)], 1989
The title of the present work may well have been inspired by the mythical world of another great "Majorcan" painter, Joan Miró. This work confronts the spectator with a cosmogonic space devoid of scale, limits or references to a specific place. All the elements seem to revolve around a large white hole, as if they formed a milky constellation of planets and stars rotating around an empty central void. However, some of the blots of material on the canvas appear to outline dragonflies or flying insects, which would imply this constellation is actually a representation of a small-scale event.
If we compare these blots—surfacing on the canvas like excrescences—with those of La flaque, painted the same year, this space can be interpreted as the effect of a mirage caused by the desert light, where the blinding sand and stones on the ground appear to be turning before our eyes. In this work, the cosmos and the world walk hand in hand.
Javier Maderuelo
In spite of having lived and worked in such diverse places as Paris, Sicily or Mali—and having drawn inspiration from these settings for his oeuvre—the fact of having been born in Majorca, in the heart of the Mediterranean, has truly marked the work and life of Barceló. His first paintings were landscape views of his native island, which he began painting at a very young age. From these he moved on to sea-related subjects, such as fish and shellfish, and ultimately to the sea itself. What is more, his paintings usually convey the unique light of the Balearic Islands.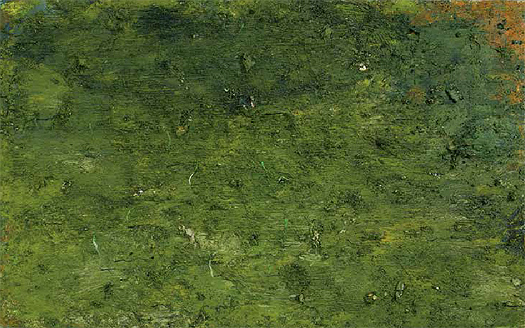 Gran fons submarí, [Great Ocean Floor], 1996
Gran fons submarí is an example of the marine universe that stretches across Barceló's body of work like a myth. Here, it appears as if the painter was immersed in the deep waters of the ocean, awaiting a poetic revelation of some sort, hoping to unlock, through his scrutinizing eyes, secrets hidden beneath the still slopes of a deep abyss. To this purpose, Barceló employs rich textures and transforms them into a thick, slimy surface, similar to a sea bottom made up of filaments, seaweed and sargassum. Murky shades of dark green materialize and become as mysterious as the art of painting itself.
The rugged, viscous materials employed by Barceló throughout his career should not undermine the importance of the actual dimensions of his paintings. The present work Miquel Barceló Felanitx (Majorca), 1957 is more than three and a half meters wide and taller than a person. Before it, the spectator—literally engulfed in an ocean-like magma—undergoes a haptic experience. It is as if the painter had intended for the viewer to experience the dampness and pressure of the water at the bottom of the sea.
Javier Maderuelo
Chronologically, the collection of the Museu Fundación Juan March starts with an etching that was produced by Pablo Picasso in 1904 and—for the time being—closes with a ceramic pot created by Miquel Barceló in 2000. Although Spanish art has undergone many changes between these two dates, and these two pieces are very different in nature, the same spirit seems to infuse the work of both artists. Throughout the twentieth century, countless artists have attempted to imitate Picasso's creative journey. His genius cannot be denied, nor his countless innovations in the fields of painting, sculpture, etching and ceramics, a fine craft he elevated to the status of true art. Taking into account these precedents, it comes as no surprise that Barceló was also tempted to use pottery as a mode of expression.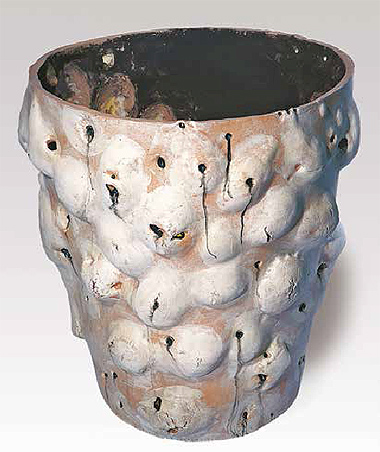 Grand pot avec crânes sur 1 face
[Large Pot with Skulls on One Side], 2000
Barceló's forceful use of materials makes his paintings stretch in appearance beyond the canvas as flat surfaces transform into protruding forms. This has no doubt led him to adopt a more physical approach towards material in his ceramics, mixing and molding clay in a manner that, in response to the pressure of his fingers, gradually adopts a specific shape.
Barceló's lengthy stays in Mali almost certainly inspired some of the features of his ceramic pieces. As industry is primitive in this country—primitive in the sense of primeval, of still being at an early stage—man's relationship with the land continues to be direct and intense. Barceló's ceramic work, characterized by its physical and intuitive nature, conveys the power of popular tradition and primary practices while expressing contemporary values and avant-garde ideas.
Javier Maderuelo
Este texto sólo puede reproducirse citando su procedencia:
Catálogo del Museu Fundación Juan March, Palma de Mallorca.