After studying and teaching Architecture, Bordes decided to become a sculptor. His fi rst exhibitions took place in the 1970s, at a time when, in Spain, sculpture was regarded somewhat poorly in comparison to painting. Bordes rediscovered the classical sculptural tradition in the 1980s, just as Guillermo Pérez Villalta did in the fi eld of painting. A sign of his growing interest in classicism can be found in the catalog of the exhibition La figura en la luz [The Figure in the Light], held at Madrid's Galería Fernando Vijande in 1984, which included an anthology of scattered writings by such renowned sculptors as Michelangelo, Benvenuto Cellini, Antonio Canova and Auguste Rodin.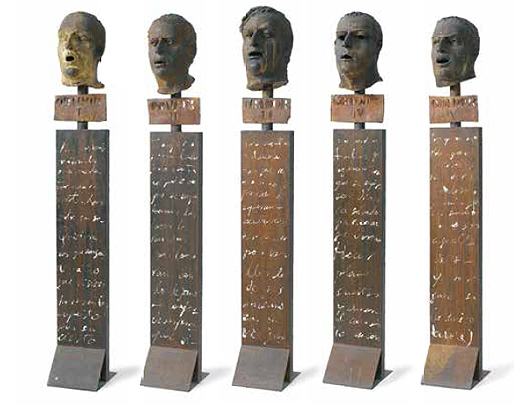 Oradores [I, II, III, IV y V], [Orators I, II, III, IV, V] 1987-1989
A member of the Royal Academy of Fine Arts since 2006, his acceptance speech—with a closing statement by Antonio Bonet Correa—was entitled La infancia del artista o las Fuentes del Nilo [The Infancy of the Artist or the Fountains of the Nile]. His interest in establishing links with tradition has led Bordes to become an avid collector of treatises on art and architecture, as well as an expert on the subject. It also induced him to collaborate with "anti-modern" architect Oscar Tusquets and to write, alongside other artists and professors, Fortuny-Picasso y los modelos académicos de enseñanza [Fortuny- Picasso and the Academic Models of Teaching, 1989]. Bordes combined these activities with his study of avant-garde tendencies, making good use of his fi ndings within the latter fi eld. Thus, among his sculptures we can fi nd bronze fi gures reminiscent of Cellini alongside works in carved polyester. In his series of skulls, Bordes took on a subject embedded in Spanish tradition—from Juan de Valdés Leal to Luis Fernández—and represented it in cubist terms from a post-Julio González perspective.
These heads, made between 1987 and 1989, represent fi ve orators. They were featured at Cabezas muy españolas [Very Spanish Heads], a show organized by Madrid's Galería Estampa in 1990 that was one of the most notable exhibitions in Bordes' career. In spite of the naturalist appearance of these heads—which bring to mind Roman busts—a note of satire permeates the work.
Juan Manuel Bonet
Este texto sólo puede reproducirse citando su procedencia:
Catálogo del Museu Fundación Juan March, Palma de Mallorca.