Broto was among the key figures to revive abstract art in Spain towards the late 1970s, at a time when European artists sought to establish conceptual tendencies and Spanish artists preferred to experiment with neofigurative techniques. The return to "pure painting" was triggered by the rediscovery of gestural techniques and their relationship with color as an essential material entity. Broto, along with other neo-abstract artists, did not require a model or pretext to paint. All he needed was the urge to spread color across the canvas, and then step away and contemplate its vibrant contrasts.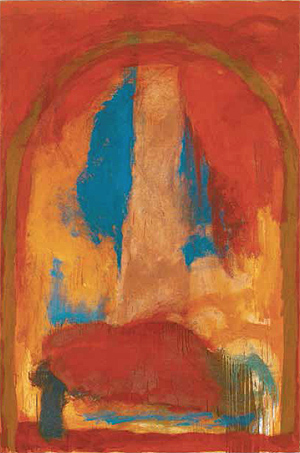 Celebración diurna [Diurnal Celebration], 1983
In keeping with other artists of his generation, Broto first engaged with minimalist forms of art based on fields of color and then went on to head the Nueva Abstracción group. His paintings are very personal, as can be appreciated in Celebración diurna. A solid structure dominated by a large arch reminiscent of a niche frames the entire composition. The focal point appears to be a few vaguely outlined figures that reinforce the painting's balance and symmetry. The niche and central figure, reminiscent of baroque painting, allude to the theme of a commemoration. Indeed, the painting makes reference to the public and diurnal celebration of the secrets of a religion that is none other than painting itself. Vivid, brilliant and vibrant colors take the place of real figures in this particular ceremony. Blue, red and a radiant ocher appear to compete for the spectator's attention, putting on a joyful and sensuous show.
Javier Maderuelo
Este texto sólo puede reproducirse citando su procedencia:
Catálogo del Museu Fundación Juan March, Palma de Mallorca.