A pupil of Daniel Vázquez Díaz, Canogar was one of the young nonfigurative artists to exhibit his work at Madrid's Fernando Fe gallery in the mid-1950s. Aged twenty-two, in 1957 he was the youngest founding member of the El Paso group. That same year he presented a series of abstract paintings with fragments of burlap at the Ateneo society in Madrid. His "informalist" works exude a sense of tension and drama that is sometimes made explicit by their Castilian titles.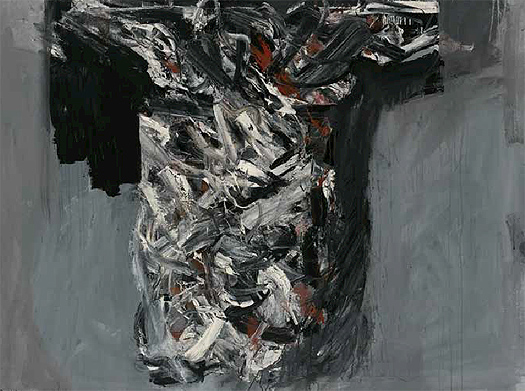 Raza, [Race] 1962
In 1964 Canogar felt the need to change the artistic style he had worked in previously, and began incorporating imagery from mass media into his work. On certain occasions he even abandoned the flat surface of the canvas in favor of reliefs or threedimensional structures inspired by experiences of grief, violence or protest.
Given the international success achieved with his politically committed artwork —he was awarded the Grand Prize at the São Paulo Art Biennial in 1971—one may have expected him to pursue this path. However, he did quite the opposite, returning to a self-analytical and post-minimalist type of abstraction in the mid-1970s. Especially significant were the works he exhibited in the last halls of his magnificent 2001 retrospective, held at Madrid's Museo Nacional Centro de Arte Reina Sofía.
Raza is a representative example of Canogar's action painting period. This sober canvas combines a restrained chromatic palette with a somewhat baroque composition. In spite of being an abstract painting, it is dominated by a figurative climate and tension that is further underscored by the historical resonance of the title.
Juan Manuel Bonet
During the mid-1960s Canogar remained mostly faithful to the expressionistic techniques characteristic of the form of abstract painting that he had deployed since the previous decade. However, he also began to incorporate massmedia images to his work in order to connect painting with everyday life, undoubtedly in a response to the influence of pop art in Spanish artists of the time. Yet, whereas both British and American pop art focused on the banality of images to be seen in comic books, television or illustrated magazines, some Spanish artists, including Canogar, made use of these figurative resources to undertake subjects involving social critique.
Composición con figuras [Composition with Figures], 1966
However, the political situation and the fear of police reprisals made it advisable to present these messages in a codified manner, as had previously been the case during the baroque period. Thus, this group of figures, presented as a mere "composition," a word that refers to an artistic study involving various elements, can also be read as a group of figures in a demonstration: anonymous individuals marching together to protest, leaving the viewer behind as they move forward. Political and social demands of this type would culminate two years later with the historic events of May 1968, in which many artists were involved.
Both the bare legs and the folds in the shirt of the figure on the right reveal a renewed interest in the devices employed in Old Master painting, specifically by Diego Velázquez in works such as The Surrender of Breda or The Forge of Vulcan, from which Canogar seems to derive some elements of the central figure's back.
Javier Maderuelo
Este texto sólo puede reproducirse citando su procedencia:
Catálogo del Museu Fundación Juan March, Palma de Mallorca.