In his youth, Chillida studied architecture and played as goalkeeper for Real Sociedad, the soccer team of his native San Sebastián. After deciding to devote himself to sculpture, he moved to Paris in 1948, where he became familiar with the language of modernism and met some of its key figures. Dating from this year, his quintessential Torso in plaster evokes Greek sculpture from the archaic period.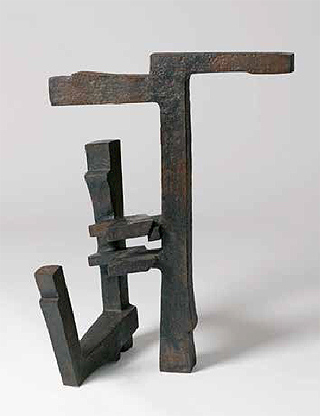 Elogio del hierro [Tribute to Iron], 1956
Upon his return to his homeland, Chillida began working with iron at a forge in Hernani (Guipúzcoa). The first sculpture he created there was the stele Ilarik (1951). These early pieces, as well as the sculptures made in the forge he installed in his own workshop shortly after, share a plain and coarse appearance reminiscent of farming implements.
Chillida's first solo show was held at Madrid's Librería Clan in 1954. The following year he exhibited at Galerie Maeght in Paris—philosopher Gaston Bachelard was in charge of summarizing his "cosmos of iron" for the catalog. In 1958, he received the International Grand Prize for Sculpture at the Venice Biennale.
Chillida's reflections on space progressively extended to other materials, such as wood (Abesti Gogorra IV [Rough Chant IV], 1964, Museo de Arte Abstracto Español, Cuenca), alabaster (his pure and transparent tributes to architecture, Wassily Kandinsky and Goethe, made between 1965 and 1979), marble, granite, terracotta, weathering steel (Mesas [Tables] and Estelas [Steles]) and paper. He even worked with concrete, making two sculptures to be displayed at public spaces in Madrid—Lugar de encuentros III [Meeting Point III, 1972, Paseo de la Castellana's Museo de Escultura al Aire Libre] and Lugar de encuentros V [Meeting Point V, 1975, gardens of the Fundación Juan March]—as well as other pieces for Frankfurt, Guernica (Vizcaya) and Gijón (Asturias).
Elogio del hierro is one of the most significant sculptures from the period in which Chillida laid the foundations of his oeuvre. This piece can only be understood as a result of the artist's contact with European modernity and, more importantly, of his deep-rooted relationship with Basque culture, as implied by his return to Guipúzcoa and his interest in metalwork.
p>
Juan Manuel Bonet
Chillida proved capable of renewing and generating new interest in the discredited field of urban and monumental sculpture. His vast body of work includes many important sculptures designed for public places. Two well-known examples, both of which are called El peine del viento [The Comb of the Wind], attest to his achievements: the first version stands on Plaza del Tenis, in San Sebastián, and the second on Plaza de los Fueros, in Vitoria (Álava). Chillida collaborated with architect Luis Peña Ganchegui in both pieces, now regarded as two of the most noteworthy examples of public art in Spain.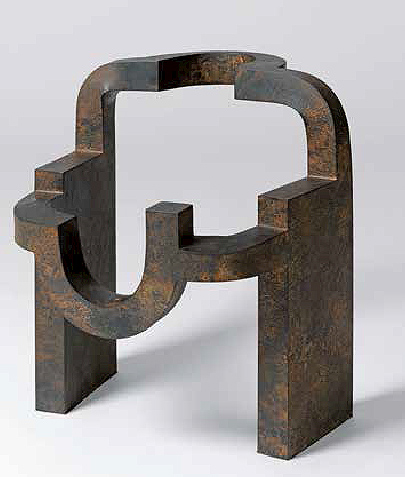 Proyecto para el Arco de la Libertad II, 1980
Producing artwork for public places presents a series of difficulties, including problems of scale, adequate location, the piece's physical presence and ability to convey meaning, and its formal and expressive qualities. Chillida was gifted at transforming material into form, and thanks to this skill he solved many of the aforementioned problems. He created solid yet moving works by using a set of unique stylistic elements learned during his youth as an employee at an iron workshop, where he first observed iron plates as they were compressed, bent, twisted and turned. Using the repertoire of a blacksmith, Chillida constructed this model for the hypothetical Arco de la Libertad II. In spite of its small size, typical of a model, the viewer perceives the monumental and expressive features the piece could acquire if executed on a larger, more convenient scale.
Javier Maderuelo
The concept of space can be interpreted as a shapeless and infinite extension devoid of limits or references. However, if analyzed from the perspective of sensory perception, space can only be identified by its boundaries. Accordingly, space would be the gap that finds its way into matter, the emptiness that remains between the limits of an impregnable mass of material. At least this is how Chillida conceived space when he grooved massive sheets of iron and opened deep cracks on their surface, or chiseled irregular blocks out of alabaster, as is the case in Mendi Huts II, a title in Basque that describes the piece as an "empty mountain."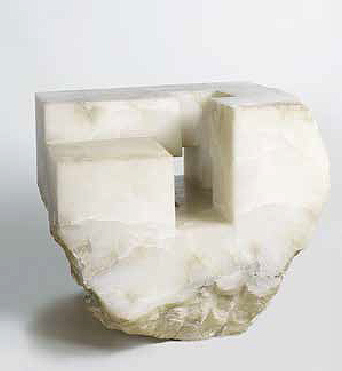 Mendi Huts II [Montaña vacía II], 1990
In this work, Chillida highlights the contrast between the rugged, imprecise, and barely elaborated bottom surface and the straight geometrical lines cut into the flawlessly polished stone on top, which defines what could be conceived as a habitable interior space comprised of rooms and corridors. Hence, the sculpture is an example of "proto-architecture." Be that as it may, it clearly underscores art's ability to alter nature and man's innate yearning to create tangible forms, expressed here through blunt, linear fissures—the veined stone, which in appearance is rough and irregular, is transformed here into a precious stone. Thus, art is understood as the tension that builds between the rigid structures of rational thinking and those imposed on the contingent forms of nature.
Javier Maderuelo
Este texto sólo puede reproducirse citando su procedencia:
Catálogo del Museu Fundación Juan March, Palma de Mallorca.