Clavé studied at the School of Fine Arts in Barcelona, where sculptor Ángel Ferrant was among his teachers. By the 1930s he was already regarded as a talented artist in Catalonia, where he was best known for his posters, billboards and cinema façades.
During the Spanish Civil War, Clavé created propaganda art for the Catalan government. His first solo exhibition was held in Perpignan (France) in 1939. That same year he settled in Paris temporarily, soon leaving the city for the peace and quiet of Saint- Tropez, in southern France. Despite this absence, before long he would became one of the main figures of the École de Paris. The influence of his predecessors—Édouard Vuillard, Pierre Bonnard, Pablo Picasso or Henri Matisse—can be traced in his oeuvre.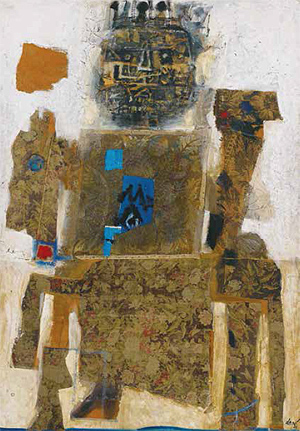 Grand roi à cheval [Great King on Horseback], 1957
While his work owes much to France, Clavé never forgot his Spanish identity and often represented themes connected with Spain's past or with the history of its art. His paintings depict kings and queens of the Middle Ages, warriors, bullfighting scenes, knights of the Spanish Golden Age, harlequins and Spanish playing card figures. Still lifes were one of his favorite genres. Clavé celebrated northern European painters such as Albrecht Dürer and Rembrandt and paid tribute to Spain's leading artistic figures, such as El Greco, Francisco de Zurbarán, Francisco de Goya, Antoni Gaudí and Pablo Picasso. His works from his later period were more abstract and sometimes incorporate collages, as is the case of the paintings and works on paper he produced upon his return from a trip to Japan.
Clavé's stunning etchings bear witness to his extraordinary mastery of new techniques, such as carborundum and gaufrage. He also took up lithography, and was introduced to the world of stage set design by Christian Bérard.
In Grand roi à cheval, Clavé examines Spanish playing card figures, one of the recurring themes of his visual universe. The work consists of several collages in which the main material is an old curtain. The influence of cubism and of Picasso's work is readily apparent in this composition.
Juan Manual Bonet
Este texto sólo puede reproducirse citando su procedencia:
Catálogo del Museu Fundación Juan March, Palma de Mallorca.