Cuixart was one of the founders of the Dau al Set [Seven-Spotted Dice] periodical, established in 1948. During this period, his work was closely related to that of two other members of the group: Antoni Tàpies, who was his cousin, and Joan Ponç. His friendship with the poet and art critic Juan Eduardo Cirlot began during these years, as did the critic's interest in his work—Cirlot supported Cuixart throughout his abstract period and remained by his side when he returned to figurative art.
Cuixart settled in France in 1951, where Lyon, a misty and strange city like no other, witnessed his transition towards abstraction. His paintings from these years share a mysterious and unique quality that touched André Breton, as can be appreciated in a letter addressed to Cirlot. The surface of these canvases was dark and vaguely reminiscent of medieval painting. On it, Cuixart traced circles, calligraphic inscriptions, chips, unreadable words and gold-colored drips, in an ensemble of signs reminiscent of that employed years earlier by Cuixart and his fellow members of Dau al Set. In 1959, Cuixart was awarded the International Prize for Painting at the São Paulo Art Biennial.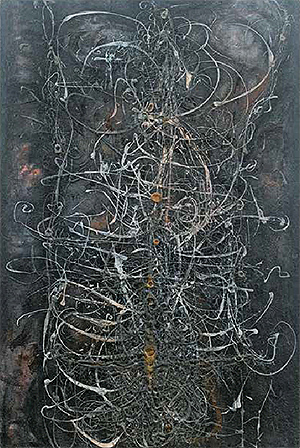 Pintura [Painting], 1959
In the 1960s, Cuixart's work evolved towards a more figurative style. Initially influenced by neo-Dadá and pop art, he incorporated objects to the surface of his paintings, as can be seen in the disturbing dolls the artist—with a note of dark humor—entitled Nins oblidats [Forgotten Children, 1962]. His repertoire of dreamlike figures is also composed of the strange creatures that can be appreciated in Knight Nolytus (1964), Venturat argonauta [Fortunate Argonaut, 1965] and Venus Verala (1965), among other works.
Cuixart completed Pintura the same year he was awarded the prize at the São Paulo Biennial. This image, as several others from the period, draws and attracts the viewer to an unknown and mysterious world.
Juan Manual Bonet
Este texto sólo puede reproducirse citando su procedencia:
Catálogo del Museu Fundación Juan March, Palma de Mallorca.