Dalí studied at Madrid's School of Fine Arts. His formative years there would prove to be useful in the future. At the Residencia de Estudiantes, a hall of residence in Madrid, he met Juan Ramón Jiménez, Luis Buñuel and Federico García Lorca. Among his early paintings, the portraits of his younger sister Ana María, executed in Cadaqués (Gerona), where the Dalí family spent its summers, stand out. The style he developed in these works was close to metaphysical painting and German new objectivity.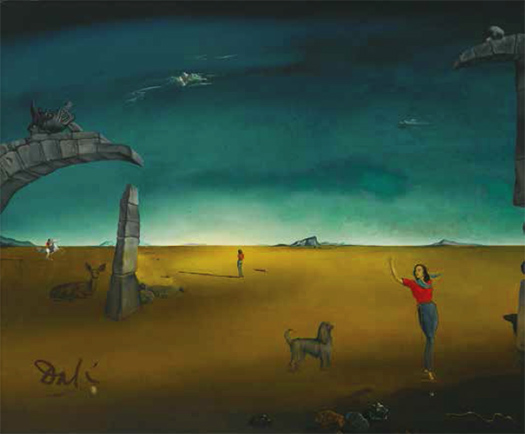 Untitled (Portrait of Luli Kollsman), 1946
After settling in Paris in 1928, Dalí's style gradually progressed towards surrealism as he unexpectedly broke ties with several Spanish friends and even his own family. André Breton considered his association with surrealism a major event for the movement, until Dalí came into conflict with his fellows over political beliefs, as a result of which he was expelled from the group and christened "Avida Dollars" by Breton. In 1929 he collaborated with Buñuel on the film Un chien andalou [An Andalusian Dog]. That same year he met Gala, Paul Éluard's wife, who would later abandon the poet for Dalí.
Throughout the 1930s Dalí adopted a more conventional, figurative style, which he combined with hallucinatory imagery. During this period he also made some of his best-known objects with a "symbolical function," championed the modern style, and illustrated works by Lautréamont. He also applied the paranoiac-critical method, a technique he described as a "spontaneous method of irrational Salvador Dalí Figueras (Gerona), 1904−1989 knowledge based on the critical and systematic objectivity of the associations and interpretations of delirious phenomena," which he applied to Jean‑François Millet's Angelus. Most of his paintings from this period were inspired by the Catalan landscape of the Empordà and the Costa Brava.
After being discovered in the United States in the 1930s, he moved to that country in 1940, where he embraced American publicity techniques to promote his work and collaborated with designers and filmmakers such as Elsa Schiaparelli and Alfred Hitchcock. By that time Dalí had already broken away from the surrealist group. In 1948 he returned to Spain and settled in Portlligat (Gerona). The Dalí of the 1940s and 1950s worked in the manner of William-Adolphe Bouguereau and academic art in general, harshly criticizing modern art and architecture as he painted Christs, Virgins, still lifes and paintings inspired by the atomic era.
The portrait of Luli Kollsman belongs to Dali's American period. Fantastic architecture, animals, disturbing clouds, lurking shadows, and a background consisting of the desolate beaches and rocks of the Costa Brava are all unmistakable elements of Dali's work. The figure on the bottom right of the picture is Austrian singer Luli Kollsman, the first wife of the inventor of the gyroscope. For several years, this painting hung in the suite Kollsman occupied at New York's Waldorf Astoria Hotel.
Juan Manual Bonet
Este texto sólo puede reproducirse citando su procedencia:
Catálogo del Museu Fundación Juan March, Palma de Mallorca.