Delgado began his artistic career painting in an expressionistic figurative manner. In the late 1960s he progressed towards geometrical abstraction and finally opted for a style termed "new abstraction", which placed emphasis on the support And the pictorial space, rather than on the figures represented in the picture.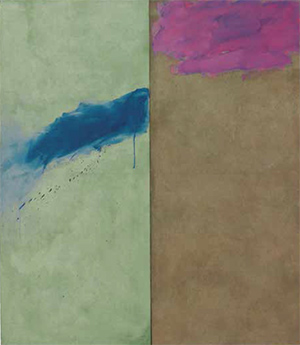 Doble K. Colgado teñido
[Double K. Hung Dyed], 1978
Doble K. Colgado teñido Is a fine example of this type of painting. The surface Is divided into two canvases of equal size, mounted On a board. Painted separately, they do Not share the same background color, though they feature the same range Of tones. In spite of the differences in color, both canvases present analogous spaces, thus giving form To a diptych. A pictorial incident Of similar nature, though with variations in form And position, takes place on each side of the painting. The outcome of each field of color Is determined by two expressionist gestural marks painted in different shades of blue And purple. Since the figures are arranged differently, each surface has a distinctive character And the space ceases To be amorphous As it acquires specific pictorial features.
This style Of painting may seem nonreferential, as it neither depicts nor represents existing shapes Of the so-called "real world." Nonetheless, Delgado's work always derives from a symbolic motif, previously internalized by the artist And bereft Of figurative And formal meaning. Through complex nuances of color And clear, precise gestures, Delgado thus achieves paintings that are As lyrical As they are mysterious And appealing.
Javier Maderuelo
Este texto sólo puede reproducirse citando su procedencia:
Catálogo del Museu Fundación Juan March, Palma de Mallorca.