The late 1950s saw the founding of a group of artists known as Estampa Popular, whose members worked in a wide range of styles but were connected by their active opposition to the Franco regime. In 1964, after the group broke up, three of its members —Rafael Solbes, Juan Antonio Toledo and Manuel Valdés—founded Equipo Crónica, which was characterized by a shift within the context of social realism and a new aesthetic, inspired by pop art in both its iconographic and compositional resources.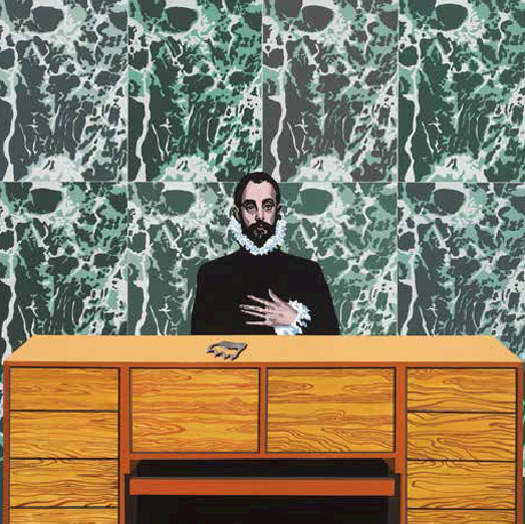 La antesala [The Foyer], 1968
Some years later, when Toledo left the group, the two remaining members decided to continue working together and started signing their works as "Equipo" [Team] in order to avoid individual artistic responsibility and egoism. Equipo's early works continued to focus on social themes and to make use of emphatic images, but adding a new ironic note that was often emphasized by the titles. In addition to the appropriation of images from the mass media, Solbes and Valdés borrowed the subject matter of "high art," combining the two in the manner of American painter Roy Lichtenstein, from whom they derived compositional devices and the use of grids and typography.
Equipo Crónica produced series of large-format paintings on socially relevant themes—such as the police charges in Paris during the events of May 68—interweaving images taken from the press with fragments from famous and recognizable works of art in order to combine popular themes with icons of high art. This is the case of La antesala, painting that depicts a type of hall porter's table along with the figure from El Greco's celebrated Knight with his Hand on his Breast (c. 1580). A disturbing knuckle duster on the table acts as a veiled reference to the terror provoked by Franco's regime in Spain.
Javier Maderuelo
Este texto sólo puede reproducirse citando su procedencia:
Catálogo del Museu Fundación Juan March, Palma de Mallorca.
Contrary to the intimate and subjective realism of Antonio López or Carmen Laffón, various groups of Spanish artists put forward new figurative tendencies in the early 1960s, developing a style in the line of social realism that enabled them to condemn the political situation and renew pictorial techniques applied to images. The group Estampa Popular was born in this context. In late 1964, three painters from Valencia—Rafael Solbes, Manuel Valdés and Juan Antonio Toledo (1940–1995)—walked out of that group and formed Equipo Crónica. After Toledo's departure the following year, the team was left with only two members and eventually came to an end with Solbes' death in 1981.
La salita [The Small Room], 1970
The name of the group, which can be translated as Chronicle Team, clearly reflects the style its members were aiming for. Their work was a team effort that avoided the effects of subjectivity, as evidenced by the fact that they did not sign their paintings individually. On the other hand, the term "chronicle" refers to the journalistic style that inspired the themes of their paintings, which included current social events. In order to meet their objectives, they borrowed ideas from comic books and popular imagery from the history of art, with which they constructed an artistic language they used as an instrument for sarcastic yet subtle criticism. In the case of La salita, based on Diego Velázquez's world-renowned painting Las Meninas (1656), they created a pop art version in which the palace salon is transformed into a petit bourgeois living room decorated with commonplace furniture. As Velázquez did in his time, the painters also portrayed themselves as part of the group in the picture.
Javier Maderuelo
Este texto sólo puede reproducirse citando su procedencia:
Catálogo del Museu Fundación Juan March, Palma de Mallorca.