Those who have followed the activities of Spanish conceptual artists will remember two voluminous books containing linguistic formulas by García Sevilla. The second of these, A través del pensamiento, a través del cuerpo, a través de la naturaleza [Through Mind, Through Body, Through Nature, 1973], proved to be the most interesting one. Despite the fact that neo-conceptualist theorists have recently attempted to claim this period of his work, the truth is that it was but a prehistoric phase in the career of García Sevilla, an artist who has taught Art History and Painting at Barcelona's School of Fine Arts.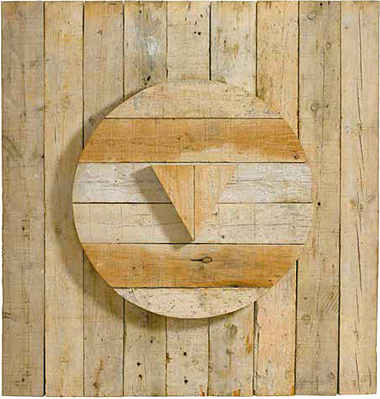 Bajorrelieve 1, 1988
García Sevilla exploded onto the art scene for a second time in 1981 in what turned out to be two spectacular exhibitions, El viatge més absurd [The Most Absurd Trip], held at Barcelona's Maeght gallery, and Res selvática de la ciudad [Wild Animal in the City], at Madrid's Galería Central, which confirmed his determination to continue his personal battle on the canvas. As early as 1979 García Sevilla's style of painting was somewhere between that of Antoni Tàpies and Albert Ràfols-Casamada.
Since then, the public has become familiar with García Sevilla's large paintings, solid images, somewhat brutal humor, and expressive character, as well as with the surfaces he often covers partially with inscriptions. Endowed with a prodigious imagination, García Sevilla produces paintings at high speed, devouring and transforming images. These qualities also translate into words, as shown in the interview conducted by Kevin Power and published in his book Conversaciones con... [Conversations with . . . , 1985]. There is no doubt that García Sevilla has many things to say. This is also reflected in an oeuvre that, under the appearance of improvisation, has taken more turns than that of any other Spanish artist of his time.
Bajorrelieve 1 is not representative of García Sevilla's oeuvre, as it does not feature his customary inscriptions and structures of interconnected images in various media. On the contrary, this piece is a constructivist relief in the style of Joaquín Torres García, consisting of humble wooden boards, probably removed from a construction site. With them, García Sevilla builds three elementary geometrical shapes—a square, a circle and a triangle—creating a strong, rudimentary image with traces of primitive masks and totemic elements.
Juan Manuel Bonet
Este texto sólo puede reproducirse citando su procedencia:
Catálogo del Museu Fundación Juan March, Palma de Mallorca.