Born into a family of craftsmen, González was trained in Barcelona at the height of modernism. He began to work at his father's metal workshop towards 1891, almost a decade before he settled in Paris in 1900. His first metal masks date from 1910. During World War I he worked at a Renault factory, where he learned the technique of autogenous soldering, which he soon began to apply to his own creations. His first solo show was held at Paris' Povolotsky gallery in 1922. Shortly after, in 1928, González initiated Pablo Picasso in the art of iron sculpture.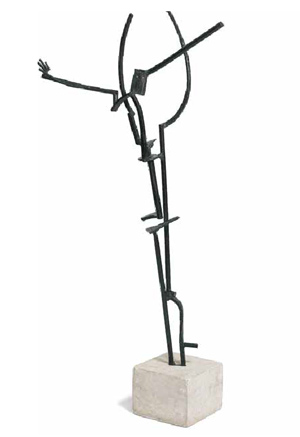 Grand personnage debout [Large Standing Figure], 1934
During the 1930s, González began to pursue a new objective: to "design and draw in space." Though he remained a figurative artist, he also participated in events organized by the Cercle et Carré and the Abstraction-Création artistic groups. Cabezas [Heads], his series of stone heads from the mid- 1930s, indicates a return to realism that was emphasized following the events of the Spanish Civil War, as reflected in the horrific and impressive series entitled Montserrat. The version of Montserrat now owned by Amsterdam's Stedelijk Museum was originally shown at the Spanish Pavilion set up by the republican government at the Paris World's Fair in 1937. This change of direction in his work is most apparent in Encapuchado [Hooded Man, 1939], Máscara [Mask, 1940–1942] and the series Manos [Hands, 1942], and is compatible with his planar sculptures Grand personnage debout, Dafne (1935), La mujer con espejo [Woman with Mirror, 1937] and El hombre cactus [Cactus Man, 1939].
La obra escultórica de este primitivo de la vanguardia constituye una de las referencias básicas de la modernidad y ha ejercido una influencia duradera sobre otros escultores, como el norteamericano David Smith, el británico Anthony Caro o los españoles Eduardo Chillida y Martín Chirino.
Grand personnage debout is a masterpiece from González's mature period, during which he successfully fulfilled the ambitions of a modern sculptor for whom space was more important than matter. The apparently precarious base from which this "figure" rises gives way to a gracious display of forms in space.
Juan Manuel Bonet
González trained both in decorative arts and as a craftsman in precious metals. As a foreigner living in France, during World War I he was obliged to work in the industrial sector, where he learned the technique of oxy-acetylene soldering, which allows for separate pieces of iron to be securely joined. At the request of Pablo Picasso, between 1928 and 1930 he produced various iron sculptures based on Picasso's drawings, thus embarking on a creative path that would determine the last decade of his work, which he defined with the inspired phrase "drawing in space."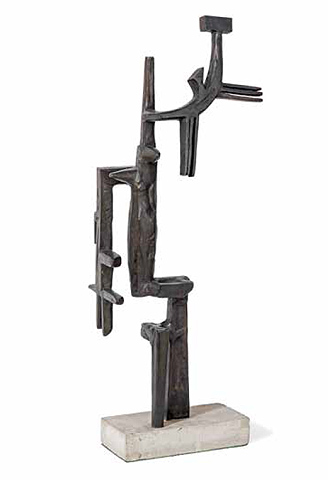 "La petite faucille" [The Small Sickle], 1937−1938
The soldered, wrought-iron sculptures that González produced from 1929 onwards are outstanding, innovative works of great originality. But, most important, they laid the way for a new type of sculpture that soon gained numerous followers, allowing for the art of sculpture to shed the weight of classicism and enter the world of the avant-garde.
The early avant-garde movements were aware of the necessity to establish a new form of sculpture —that differed from the dull, antimodern sculpture indebted to classicism—through procedures such as collage, construction and the use of found or modified objects. Their endeavors soon gave rise to new three-dimensional and spatial art forms that broke away from the age-old concepts of carving and sculpting. Nonetheless, González was able to reinvent the medium without totally distorting the nature of the inherited language of sculpture. La petite faucille is one of those works. Made in soldered wrought iron, it was later cast in bronze.
Javier Maderuelo
Este texto sólo puede reproducirse citando su procedencia:
Catálogo del Museu Fundación Juan March, Palma de Mallorca.