Juan Gris, whose real name was José Victoriano González, studied at the School of Arts and Crafts in his native Madrid, where he began his career as a modernist illustrator. In Paris, where he settled in 1906—never to return to Spain—he continued to work in this line for a brief period of time. His studio was located at the Bateau- Lavoir in Montmartre, next to Picasso's workshop. His first paintings, which date from the early 1910s, were done in the manner of Paul Cézanne and the cubists. Among these early works there is a portrait of Pablo Picasso, whose Les Demoiselles d'Avignon (1907) gave birth to the cubist movement.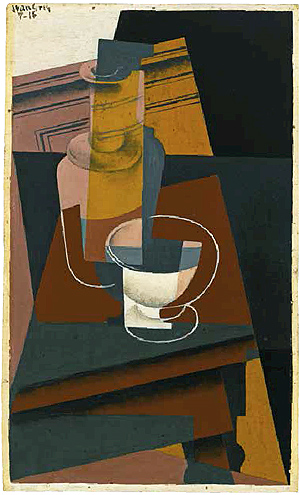 Carafe et bol [Carafe and Bowl], 1916
Juan Gris did not merely imitate pre-existing methods. Rather, he succeeded in capturing highly original nuances in cubist geometrical compositions. The still lifes he produced in the mid-1910s are considered his first masterpieces. Several of them were papier collés, a technique invented by Picasso and Georges Braque.
Influenced by his poet friends—Pierre Reverdy, Vicente Huidobro, Tristan Tzara and Gerardo Diego—Juan Gris frequently referred to the interplay of objects in his works as a "rhyme."
The still life Carafe et bol dates from 1916, a productive year in the artist's career. As the title indicates, the work represents a carafe and a bowl reconstructed in cubist terms. In the hands of Juan Gris, the cubist way of depicting objects from various points of view is neither a closed system nor a dogmatic belief—it is simply a method. The result is a rigorous painting that is solemn, intimate and modern, yet capable of touching the viewer as a work by Jean Siméon Chardin or Francisco de Zurbarán would. As Kenneth E. Silver wrote, "Never before Or after did the art of Juan Gris seem so obscurely Spanish as between 1915 And 1917."
Juan Manuel Bonet
Este texto sólo puede reproducirse citando su procedencia:
Catálogo del Museu Fundación Juan March, Palma de Mallorca.