A craftsman during his adolescence, Guerrero took up painting in the 1930s. He started his training at Granada's School of Arts and Crafts and, following the Spanish Civil War, completed his studies at the School of Fine Arts in Madrid, where he exhibited alongside the group of artists that would eventually be known as the Madrid School. However, by that time Guerrero was already treading a different path.
His progression towards abstraction took place in New York in 1950—he was granted United States citizenship in 1953—where he became part of the second generation of American action painters. Subsequent trips to Spain in the early 1960s renewed Guerrero's interest in Spanish motifs—especially from Andalucía—which had seemed to vanish from his work when he moved to New York and joined its art scene. La brecha de Víznar [The Breach of Víznar, 1966], one of his major works from the period, is an elegy to the memory of Federico García Lorca—Guerrero met Lorca briefly in Granada in the 1930s and later became acquainted with his brother, Francisco, in New York.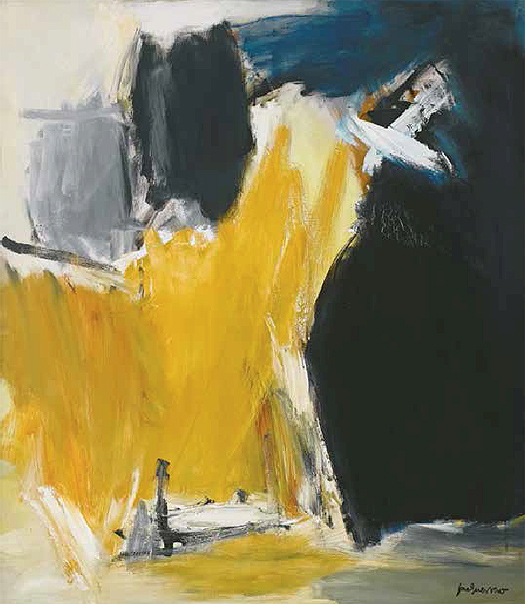 Black Boundary, 1963
In 1964, the Galería Juana Mordó organized the first Spanish exhibition of Guerrero's abstract work in Madrid. Two years later, Fernando Zóbel acquired one of his paintings for the Museo de Arte Abstracto Español in Cuenca. In the early 1970s, he painted his Fosforescencias [Phosphorescences]: lined-up matches with incandescent colors. The retrospective exhibition organized in 1980 by the Spanish Ministry of Culture in Madrid took place when Guerrero's popularity among young abstract painters was at its highest.
Guerrero concluded Black Boundary after his rediscovery of Spain and its memories. Black, a recurring color in his work, gave name to The Presence of Black exhibition, held at New York's Betty Parsons Gallery in 1958. However, neither the paintings displayed at that show nor this Black Boundary share the pessimism of the El Paso group.
Juan Manuel Bonet
Upon arriving in the United States, Guerrero abandoned landscape painting and disposed of all figurative elements in order to devote himself to an abstraction based on tonal values. However, in the late-1960s and early-1970s he produced an extensive number of paintings he generically entitled Fosforescencias [Phosphorescences], of which Crecientes (Amarillo series) is an example. The Fosforescencias paintings are the result of a fortuitous event that, nonetheless, helped Guerrero develop a specific line of work. A tedious flight from New York to Stockholm gave the artist the chance to study a matchbook for an extended period of time and thus come up with the idea of applying a structural composition to his color paintings, as Jasper Johns had done with the image of the American flag in 1954.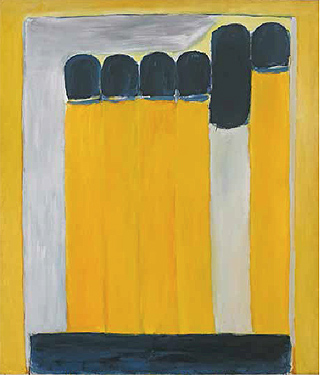 Crecientes [Increasing] Amarillo [Yellow] series, 1970
Applying the matchbook's geometrical structure, Guerrero was able to contain and arrange the sweeping brushstrokes that populated his work during the previous decade. As can be appreciated in the present canvas' radiant yellow, he emphasized color vibration, limits between fields of color and nuances of light.
Some of the Fosforescencias paintings were exhibited in 1971−1972 at Madrid's legendary Galería Juana Mordó. The show had a great impact on young artists who, in the 1970s and 1980s, hoped to modernize Spanish painting, and who saw in Guerrero an experienced mentor who helped them return to the origins of "pure painting."
Javier Maderuelo
Este texto sólo puede reproducirse citando su procedencia:
Catálogo del Museu Fundación Juan March, Palma de Mallorca.