During the 1960s, Spanish artists engaged in an intense experimental activity that led to the blurring of lines between painting and other artistic disciplines. Contrary to the purist ideas of American art critic Clement Greenberg—who claimed paint should remain within the limits of the painting's flat surface and not spill over the edges of the canvas, adjusting to the properties derived from the pigments themselves—artists such as Guinovart took advantage of the physical properties of recognizable three-dimensional objects, including both distorted shapes and real objects in their compositions.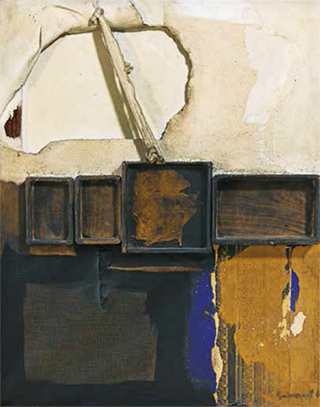 Untitled, 1964
As a result, elements formerly excluded from painting made their way into art, and works acquired volume and physical qualities that opened the field of painting to sculpture, on the one hand, and to everyday life on the other. Once artworks were freed from dignified materials and academic techniques, their aura disappeared and they came to be characterized by their physical components, including simple objects and material waste. Hence, the new principles of art did not depend on the quality and dignity of pictorial materials or on a delicate yet complicated and fleeting concept of beauty. Instead, they were to be found in the evocative and poetic qualities that the most humble of objects can convey when decontextualized and presented to the viewer free of its original function.
In this untitled work, Guinovart worked with a stretched canvas —an element of traditional painting— the upper part of which he then tore in order to attach a piece of cloth that seems to hold up the boxes. This tear can be understood as a metaphor of the belligerent approach to art adopted by many painters throughout the 1960s.
Javier Maderuelo
Before devoting himself to painting, Guinovart worked as a wall painter. Though he abandoned this profession in 1951—when he traded the Institute of Master Painters for the School of Arts and Crafts and, later on, for the School of Fine Arts in Barcelona— some of his later paintings look back on this activity with nostalgia. Influenced by Benjamín Palencia's work, until the 1950s his paintings were figurative and centered on the landscape of Castile, Federico García Lorca, flamenco, the circus and jazz.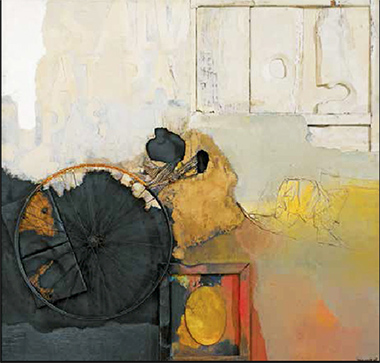 Homenatge a Salvat-Papasseit, 1963
Guinovart began to follow the teachings of Spanish informalism in 1957. In 1963−1964 two of his works paid tribute to Francisco de Zurbarán and Juan de Valdés Leal. It was then that he aligned with the principles of pop art and added a variety of materials and objects to his neo-Dadá assemblages: windows, art nouveau frames, light bulbs, colored paper, rocking chair parts and so on. Always aware of current events, his fervent work of the late 1960s and early 1970s looked at Cuba, Vietnam and Chile for inspiration, as well as to Miró and the 1969 "return operation" of Pablo Picasso's Guernica.
Though Guinovart made outdoor sculptures and installations—such as the stunning maze at Parc de la Mar in Palma (Majorca)—his true interest lay in establishing a bond with Earth. This is the subject, for example, of the striking assemblages with stubble completed in Agramunt (Lérida) between 1976 and 1977.
Homenatge a Salvat-Papasseit was painted for the group exhibition of the same name held at Barcelona's Galería Belarte in 1964. Although the world of Joan Salvat-Papasseit (1894–1924)—an avant-garde poet from Barcelona and a key figure of early Catalan modernism—was the starting point for this assemblage, the assorted elements of the composition, in which a framed oval and a bicycle wheel stand out, recall the work of American artist Robert Rauschenberg. However, this was not the first time Guinovart approached Salvat-Papasseit's universe—only a year earlier he had completed the beautiful and vivid color illustrations that accompanied Salvat- Papasseit's Poesies [Poetries]. A smaller version of this homage, also from 1963, once belonged to the collection of the writer Joan Perucho.
Juan Manuel Bonet
Este texto sólo puede reproducirse citando su procedencia:
Catálogo del Museu Fundación Juan March, Palma de Mallorca.