Hernández Pijuan studied at the School of Fine Arts in Barcelona, an institution to which he would return between 1992 and 1997, when he was appointed dean of the school, which by then was part of the University of Barcelona.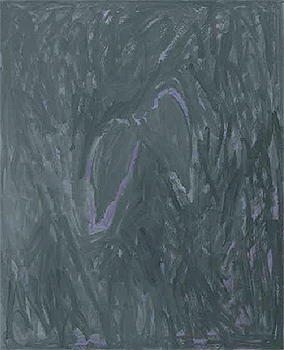 Fulles sobre violeta [Leaves on Violet], 1983
After completing his studies, Hernández Pijuan was among the founding members of the Sílex group in 1956. The following year, during a brief stay in Paris, he discovered informalism, setting aside the geometrical style he had initially favored. The dramatic black paintings he produced towards the late 1950s, with their contrasts of light and darkness and their restrained violence, were closer to trends in vogue in Madrid at the time—in particular in the El Paso group—than to those of the prevailing art scene in Barcelona.
However, Hernández Pijuan would later abandon abstract expressionism in favor of a more reserved and restrained approach. His became a universe of graph paper, rulers, set squares and geometrical structures that entrapped an apple here, a glass there or a lonely tree further away. However, it was not until he had systematized his method, moving closer to the principles of post-minimalism and the Pintura-Pintura group, that he discovered the fundamental subjects of his work: flowerpots, houses and still lifes. In short, poetic, free and primary elements.
Fulles sobre violeta is an example of Hernández Pijuan's later work. Halfway between abstraction and figuration, it exudes serenity, stability and balance. The gray leaves, which seem to fade into the violet mentioned in the title, bring to mind a certain kind of "delicious fruit" produced by an Asian civilization—whose philosophy of life and art appealed greatly to the painter—such as a haiku.
Juan Manuel Bonet
Although only eight years younger than Antoni Tàpies, Hernández Pijuan belonged to a later generation of artists. Nonetheless, both Tàpies and Hernández Pijuan's work came to represent a very specific way of painting that would characterize modern art in Barcelona and that can be summarized as "walls with graffitilike marks." This takes the form of paintings with little intervention and very simple, primary signs that attract the visual interest of the viewer to the qualities of the surface of the background but, at the same time, manage not to lessen the value of the figures set against it.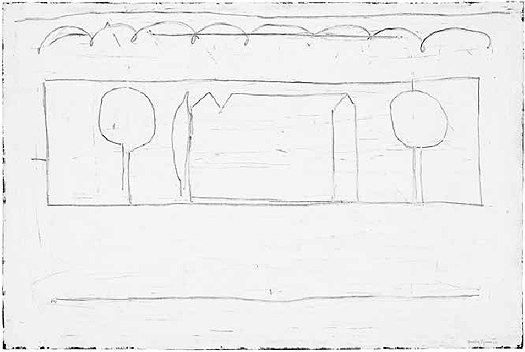 Paisatge amb casa i arbres [Landscape with House and Trees], 1989
Hernández Pijuan's career moved from expressionism and action painting to works that reveal the space as a void arranged over a grid of fine lines drawn with great precision. Paisatge amb casa i arbres, a work belonging to his late period, summarizes this evolution and reveals the spirit of Hernández Pijuan's mature work. Using a synthetic approach, it presents the notably stereotypical outlines of two trees and a house, all depicted according to strict convention. These forms are enclosed in a rectangle and are embellished with an edging at the top and a smooth line at the bottom. The composition as a whole thus acquires a sense of horizontality that is characteristic of a landscape, distilling the serenity of a not immediately perceptible geometrical order.
The lines with which Hernández Pijuan defined these schematic figures are not painted—rather, using the technique of grattage, he firmly and securely scraped off the paint layer when it was still damp, allowing for the dark tone beneath it to show through.
Javier Maderuelo
Este texto sólo puede reproducirse citando su procedencia:
Catálogo del Museu Fundación Juan March, Palma de Mallorca.