Between 1973 and 1985, Laffón painted a series of small cupboards, all of which are quite similar in appearance. At first glance, the subject matter chosen by the artist seems to lack interest. After all, a cupboard is a plain, commonplace object. However, the artist's perseverance proves that she had a project in mind: Laffón wanted to capture the phenomenological essence of objects around her. This required a pragmatic approach, which could be attained by contemplating simple or familiar objects for extended periods of time. Through this exercise in observation, the nuances of light and darkness become apparent, highlighting the silent and still atmosphere of an intimate experience.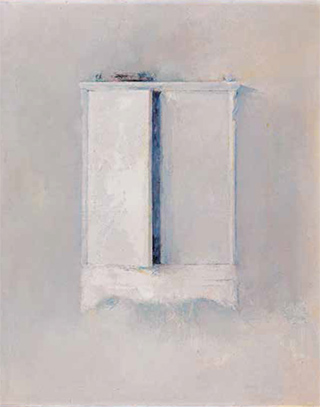 Armario blanco, 1985
In paintings such as Armario blanco, reproducing details with great precision is not the artist's main concern. Rather, it is the essential feature of these details that is underscored, as one must find what they have in common. Hence, the gaze should transcend the boundaries of reality and grasp the hidden concepts behind objects, or at least what they are capable of suggesting.
The visual outcome of this series brings to mind Giorgio Morandi and his "metaphysical" approach to painting. Laffón's works do not depict real objects but emotional states, such as solitude or abandonment. However, these feelings are expressed through a set of objects—in this case, small cupboards—suspended in time. Their ghostly air contrasts with the reality of what is actually portrayed.
Juan Manuel Bonet
Laffón studied at the School of Fine Arts in Seville and lived briefly in Madrid before returning to the capital of Andalusia. During the mid-1950s she painted Italian subjects. She exhibited her work at the Ateneo society in 1957 and at Galería Biosca in 1963, both in Madrid. Though she was awarded the National Visual Arts Prize in 1982, she was not well known to the general public until the Museo Nacional Centro de Arte Reina Sofía held a retrospective of her work in 1992. In 2000 she entered the Royal Academy of Fine Arts, where her inaugural speech was followed by a closing statement from her close friend Gustavo Torner.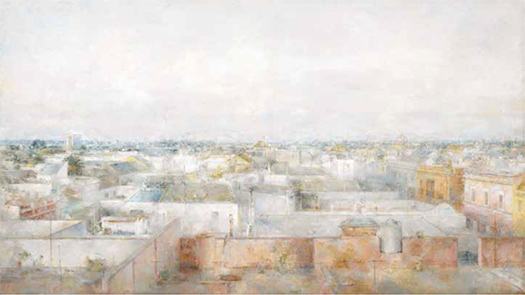 Sanlúcar de Barrameda, 1975-1977
Through her paintings and drawings, Laffón has immortalized a timeless image of Seville that is miles away from the folkloric imagery that has tainted the city's reputation, with its high rooftops and flowerpots, bell towers, dimly lit interiors and gray convent gardens. Laffón requires few elements to express herself. Simple objects of everyday use—jasmine in a vase, clothes in a wicker basket, a sewing machine, plates and boxes, a doll forgotten on a chair, the walls of the Alcázar, a child lying in a crib or Easter Week procession floats—are enough to convey the essence of the city.
to Sanlúcar de Barrameda since her childhood. It comes as no surprise then that the Guadalquivir River is the subject of several of her lithographs. Her buoyant, unreal and virtually abstract pastels recall Turner's watercolors. These works capture the Carmen Laffón Seville, 1934 passing of time on a beach where sky, sea and land melt into light. The present work, Sanlúcar de Barrameda, is her most important depiction of the town and one of the most noteworthy paintings of her career. It was first presented at the solo exhibition entitled El río. Sevilla-Sanlúcar de Barrameda, 1975−1978 [The River: Seville-Sanlúcar de Barrameda, 1975−1978], organized by Seville's Galería Juana de Aizpuru in 1978.
Juan Manuel Bonet
Este texto sólo puede reproducirse citando su procedencia:
Catálogo del Museu Fundación Juan March, Palma de Mallorca.