Lootz, who settled permanently in Madrid in the mid-1960s, epitomizes the most experimental tendencies of Spanish art in recent decades. Focusing mainly on conceptual art, her work consists of installations, sculptures and drawings that address themes such as the cartography of memory and the power of time. The artist expresses these subjects by means of natural materials—melting ice, scattered mercury or flowing sand— which are subject to the universal laws of time, heat and gravity. Among other materials employed by Lootz are copper, earth, lead, mercury and felt. However, far from being mere physical elements reduced to form and volume, these materials acquire a symbolic meaning capable of expressing qualities associated to their nature. Through the viewer's sensations and own experiences, the materials become cold, brilliant, heavy, dull or fluid.
Consequently, Lootz's work requires an active approach. The spectator must perceive, experiment and sharpen his feeling when confronted with these somewhat ephemeral and ineffable phenomena. One word sums up these events, Humo [Smoke], which is the evocative title of a magazine co-founded by Lootz.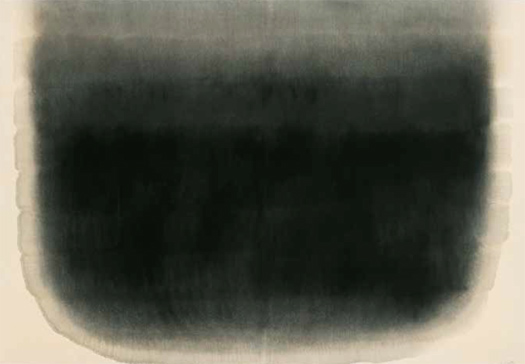 Cuadro negro [Black Painting], 1974
Cuadro negro exemplifies the artist's sensitivity and the type of work she produces. Liquid acrylic paint was used here to permeate the support. As the water slowly evaporated, the paint stained the canvas, leaving evidence of the drying process. This process is expressed by means of a subtle progression of colors, a phenomenon that, despite being caused by the artist, has followed its natural course, as appreciated on the canvas.
Javier Maderuelo
Este texto sólo puede reproducirse citando su procedencia:
Catálogo del Museu Fundación Juan March, Palma de Mallorca.