López García took his first steps in painting under the supervision of his uncle, the realist painter Antonio López Torres. Contrary to other artists in post-war Spain, he did not speak in a nonchalant manner of his formative years at the School of Fine Arts, where he acquired the rudiments of his remarkable technique. While his classmates would have given anything for the chance to travel to Paris, López García had words of admiration for forgotten academic painter Eugenio Hermoso and chose to travel to Rome, where he came into contact with metaphysical painting and the novecento movement. His first solo exhibition in Madrid, held at the Ateneo society in 1957, represented a strong counterpoint to the informalism of the paintings which usually hung at that venue.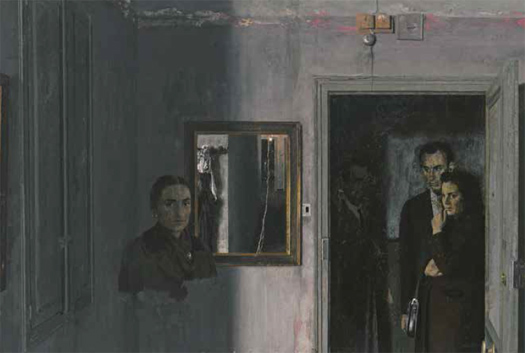 Figuras en una casa [Figures in a House], 1967
Internationally renowned as one of the most intimate and authentic exponents of figurative painting in the second half of the twentieth century, López García has exhibited his work at prestigious galleries in Paris and New York. He also enjoyed success in his own country—where he received the Príncipe de Asturias Award for the Arts in 1985—though he has exhibited in Spain on very few occasions. The Fundación Juan March organized a retrospective of his work at the Museo de Albacete in 1985, and a second retrospective was held at the Museo Nacional Centro de Arte Reina Sofía in 1993. In 2011 Madrid's Museo Thyssen- Bornemisza organized his most recent retrospective, which was also shown at Bilbao's Museo de Bellas Artes.
Although many of López García's works are inspired by his hometown of Tomelloso, no one has painted the city of Madrid quite like he has. Among his paintings of the capital of Spain, Madrid Sur [Southern Madrid, 1965–1985] and Gran Vía (1974–1981) are worthy of special mention.
Figuras en una casa is a good example of why López García has been described on occasions as having surrealist tendencies. There is something extremely disturbing about this scene, presided by the characters standing by a doorway in a dark house somewhere in Madrid, where the bodiless head of a woman floats in the air like a specter.
Juan Manuel Bonet
Este texto sólo puede reproducirse citando su procedencia:
Catálogo del Museu Fundación Juan March, Palma de Mallorca.