López Hernández became familiar with the craft of metalwork at his father's workshop, a forge originally established by his grandfather. He studied Arts and Crafts and Fine Arts, which he later also taught in Madrid. While studying at the School of Fine Arts, he met Antonio López García and Lucio Muñoz—he would later work alongside Muñoz on the monumental altarpiece for the basilica of Aránzazu (Guipúzcoa, 1962), and with Antonio López on the portraits of the king and queen of Spain that can be seen at the Museo Patio Herreriano in Valladolid.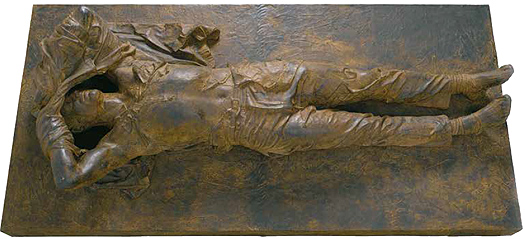 Hombre del sur [Man from the South], 1972
Towards the mid-1950s, López Hernández showed interest in Henry Moore and the Italians Marino Marini and Arturo Martini. Greek and German Gothic art, Castilian imagery and Donatello were also among the leading lights that guided the artist in his individual search within the field of realism. As for materials, in spite of his preference for wood and bronze, he has not kept away from more contemporary materials, such as polyester.
López Hernández has been an exceptional witness and recorder of everyday life in Madrid. His parents at their metal workshop, his two daughters, a stray dog, a woman holding a purse, a schoolgirl, a photographer, a bedroom—located on Calle Almagro, according to its title—a night criminal court, a train wagon, etc. All these settings and characters have suited his enquiries into the mysteries of a world that he does not contemplate Julio López Hernández Madrid, 1930 with indulgence, though his gaze does not lack tenderness or lyricism.
Throughout his career, López Hernández has shown particular interest in medals, which were the subject of his acceptance speech at the Royal Academy of Fine Arts in 1988—his was also the design for the commemorative medal of the opening of the Museo de Arte Abstracto Español in Cuenca.
A recumbent statue made in bronze, Hombre del sur is an imposing work somewhat reminiscent of a sepulchral statue. In Antonio Bonet Correa's words, López Hernández's figures resemble bodies "lying in state" and reveal "hidden funereal details."
Juan Manuel Bonet
Este texto sólo puede reproducirse citando su procedencia:
Catálogo del Museu Fundación Juan March, Palma de Mallorca.