Inspired by the work of Salvador Dalí, in 1948 Millares organized Exposición superrealista [Super Realist Exhibition] in his hometown. But, as Pictografías canarias [Canarian Pictographies, 1951] and Muros [Walls, 1954] reveal, his style rapidly developed towards abstraction. The work of Joan Miró and Paul Klee, Joaquín Torres García's constructive universalism, European lyrical abstraction, and American abstract expressionism all influenced this great leap forward.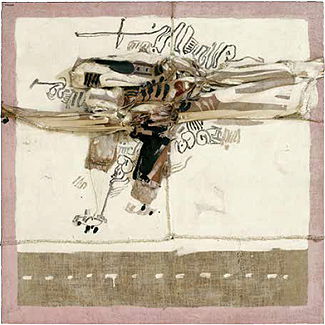 Antropofauna [Anthropofauna], 1970
In 1955 Millares settled permanently in Madrid, where he soon discovered the expressive qualities of burlap. In 1957 works created with this "poor" material were showcased at the Ateneo society in Madrid. This exhibition coincided with the emergence of the El Paso group, of which Millares was a founding member. Soon his black, white and red burlap works, which continued to be abstract in appearance, started to incorporate figurative patterns, as can be appreciated in the cycle Homúnculos [Homunculus]. Due to its extreme violence, this series can be understood as an allegory of the twentieth century and its troubled history. Millares did not shy away from historical subjects, such as Philip II (Sarcófago para Felipe II [Sarcophagus for Philip II], 1963, Museo de Arte Abstracto Español, Cuenca); the Francoist commemoration of "twenty-five years Of peace" (Artefactos para la paz [Artifacts for Peace], 1965); the public showing of the bodies of Mussolini and Clara Petacci in Milan (series of drawings from 1971); or the Profumo affair, which shook British politics (Tríptico para un politico [Triptych for a Politician], 1963). This line of work had a grand finale with the series Humboldt en el Orinoco [Humboldt in the Orinoco, 1968] and Animal de fondo [Depth Animal, 1966]—a title borrowed from Juan Ramón Jiménez—as well as with his Antropofaunas and his Neanderthalios.
The present Antropofauna is a key work from Millares' later years, a period when white prevailed over black and light overcame darkness. The figure's strange and fragmented contour sprawls out over a white, ocher and pink background, producing an exciting sense of balance, a fragile equilibrium that can ultimately be described as "classical".
Juan Manuel Bonet
Este texto sólo puede reproducirse citando su procedencia:
Catálogo del Museu Fundación Juan March, Palma de Mallorca.