Shortly after arriving in Paris, Miró rented a studio at 45 Rue Blomet that had previously belonged to the Spanish sculptor Pablo Gargallo. Painter André Masson also had his atelier in the same courtyard, where an active group of surrealists gathered frequently, including playwright Antonin Artaud, critic and anthropologist Michel Leiris, and Miró himself. During these years, André Breton, the leader of the surrealist movement, praised Miró's work, which was often included in the group's exhibitions until 1935. However, Peinture (Femme, tige, coeur), as well as other paintings dating from the second half of the 1920s, reflects a heterodox approach far from surrealist principles, precisely the quality on which Miró's singularity and independence relies.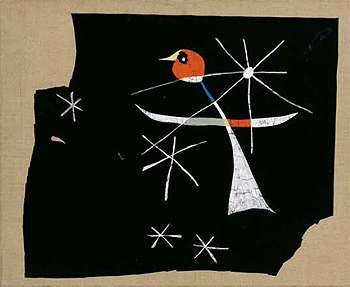 Peinture (Femme, tige, coeur)
[Painting (Woman, Stem, Heart)], 1925
Contrary to most painters, who continued to represent objects, animal and people in great detail during this period, Miró chose to dispense with any recognizable elements in this work. Instead, he shows three objects reduced to schematic symbols and arranged over a blue, undefined, fleeting background: a heart, a woman and a plant stem that appears to be growing from a small seed. Nothing in this composition feels r eal. The figures seem to emerge from a dream that has been interpreted with a surprising sense of form, innocence and subtlety. However, the symbolic meaning behind the elements of this dreamlike painting reminds us that Miró's approach was not childish or naive, as may appear at first glance.
Javier Maderuelo
Este texto sólo puede reproducirse citando su procedencia:
Catálogo del Museu Fundación Juan March, Palma de Mallorca.
Miró's artistic career started in Barcelona, where he attended the School of Fine Arts and later enrolled in the academy directed by Francesc Galí, an exponent of the noucentisme movement. In the 1910s, Vincent van Gogh, Paul Cézanne, fauvism and Japanese prints were among his early influences. His first solo exhibition was held at Barcelona's Galería Dalmau in 1918, the same year he became a member of the innovative Agrupació Courbet, an artistic group that opposed conservative traditions in Catalan art. The following year he traveled to Paris, where he would live for nearly twenty years. There he became acquainted with Pablo Picasso. The figurative and precise detail of Miró's paintings during his first years in the French capital led German critic Franz Roh to include him in his book on magical realism published in 1925.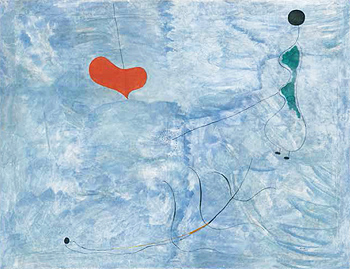 Le perroquet [The Parrot], 1937
Miró soon aligned with the emerging movement of surrealism, producing paintings such as La terra llaurada [The Tilled Field, 1923–1924], Paisatge català (El caçador) [Catalan Landscape (The Hunter), 1923–1924] and El carnaval de l'arlequí [Harlequin's Carnival, 1924– 1925]. The late 1920s were fruitful years for Miró. First came his blue canvases, then his Interiores holandeses [Dutch Interiors, 1928] and his first objects. Contrary to Salvador Dalí's literary and narrative surrealism, Miró, like Hans Arp and Alexander Calder, adopted certain elements of geometrical abstraction on account of their formal strength. Organic shapes, birdlife, stars and sexual symbols provided Miró with a repertoire of themes for his work. His Carnets catalans [Catalan Notebooks], published by Gaëtan Picon in 1976, illustrate the methodical manner in which he configured his seemingly spontaneous paintings.
Following the German occupation of France in the early 1940s, Miró returned to his homeland and led a quiet life in Barcelona and Palma. In addition to his paintings, he also produced a number of prints, ceramics and sculptures, several of which are modified objects.
Miró concluded Le perroquet in 1937, the same year he executed his hallmark Aidez l'Espagne [Help Spain] stencil, and he displayed his Pagès català amb falç [Catalan Peasant with a Sickle] in the Spanish Pavilion at the Paris World's Fair. Against a night-like black background, five of Miró's trademark stars emerge, and the parrot of the title is conveyed with just a dab of red, yellow and blue. This small jewel exemplifies Miró's ability to conjure poetry out of the smallest details.
Juan Manuel Bonet
Este texto sólo puede reproducirse citando su procedencia:
Catálogo del Museu Fundación Juan March, Palma de Mallorca.