Mompó trained at the School of Fine Arts in Valencia within the strict academic tradition of the 1940s, which were difficult years in Spain. However, the imitation of reality was gradually transformed as his work evolved towards abstraction, until his painting became a unique universe devoid of any references to the exterior world. This process took Mompó from the representation of urban subjects and landscapes to the increasing distortion and disarticulation of the figures, which gradually became diluted on the painting's surface. Hence, both the sense of depth and the object-like appearance of shapes gradually diminished in favor of a display of gestural strokes and chromatic surfaces.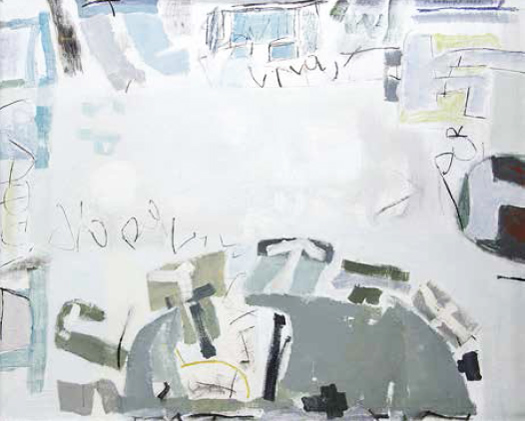 Romería [Country Pilgrimage], 1963
The title of this work, Romería, probably refers to a subject that is suggested but not explicitly represented, given that what we see are pale toned brushstrokes, with a predominance of greens, blues and pinks, which do not explicitly define any figures or forms. On the colored surface we also see a form of graffiti that doesn't contain full words. Thus, the viewer must make an effort to distinguish what appear to be signs, as is the case of a cross or an arrow that do not actually refer to anything specific. This is an example of what the École de Paris—a city where Mompó lived between 1954 and 1957—termed "lyrical abstraction," as the painting's appeal lies in the poetry distilled by the dynamism of the composition and the soft movements of the chromatic nuances.
Javier Maderuelo
Mompó studied Arts and Crafts and Fine Arts in his native Valencia before searching for new windows from which to observe the outside world. As he traveled through France, Holland and Italy, his paintings gradually acquired the intimacy of a traveler's journal, narrating the experiences of a rover's life. By the early 1960s it became clear that his painting was a strictly personal endeavor, as his work did not seem to have much in common with Spanish aesthetic trends of the time and proved to be much closer to that of Paul Klee, Joan Miró or Julius Bissier.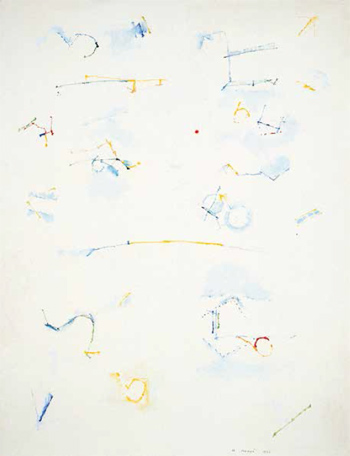 Estelas en un paisaje [Steles in a Landscape], 1979
Time did not alter Mompó's commitment to a free and poetic style. His paintings are infused with happiness and humor, yet tainted with vague traces of melancholy. He enjoyed painting scenes of everyday life, streets, the outdoors, the sea and sky, children, flowers and the islands of Ibiza and Majorca, where he arrived escaping from Madrid's hustle. In 1968 he was awarded the UNESCO Prize at the Venice Biennale. Decades later, two retrospectives of his work were held in his native Valencia, the first at Sala Parpalló in 1984 and the second at the IVAM center in 1991.
In the 1960s Mompó executed transparent and melodious compositions, including Semana Santa en Cuenca [Easter Week in Cuenca, 1964]—now at the Museo de Arte Abstracto Español in Cuenca—which in my view is his masterpiece. From this style he evolved towards the white surfaces that would come to characterize his later work—paintings that are simple in form, do not contain as many narrative elements as the previous ones, and show the artist's inclination towards calligraphic detail.
Estelas en un paisaje brings to mind scattered letters and words. Blue, yellow and red marks fade into a blinding white background. The artist's paintbrush moves freely along the surface, tracing broken lines, defining hazy images of steles and describing fugitive shadows. Although nothing actually "happens" in this ethereal painting, this "nothingness" is expressed with an elegance and grace typical of Mompó, the painter of light.
Juan Manuel Bonet
Este texto sólo puede reproducirse citando su procedencia:
Catálogo del Museu Fundación Juan March, Palma de Mallorca.