Muñoz was the greatest exponent of Spanish informalism among those artists not belonging to the El Paso group. However, due to similarities in style and the chronological development of their production, his work is usually presented in anthologies and exhibitions alongside that of the members of El Paso.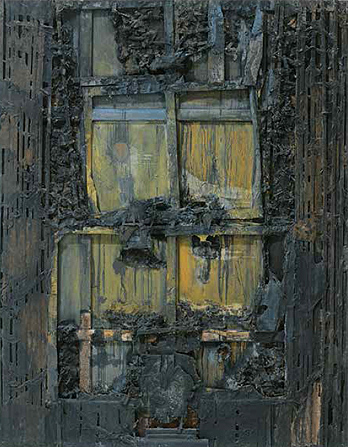 La ventana [The Window], 1963
Attracted to the expressive qualities of material, Muñoz gave up figurative painting in 1955, when he began using mineral dust and dry pigments mixed with glue and varnish in his paintings. He considered that canvas—the support traditionally used in painting— was too soft and inappropriate for the experiments he sought to carry out. Thus, in 1958, one year after the El Paso group was founded, he began to spread material over wooden boards, which were more effective as supports. Soon enough, Muñoz discovered the media's potential and began to carve out crevices in the wood with a chisel, to burn the surface with a blowtorch, and to scrape off the superficial layers in order to expose the hidden structure of the reinforced wooden boards he used.
Some of these procedures can be observed in La ventana. Once the artist peels off the wooden surface and reveals the underlying planks, the board's reticular structure becomes apparent, suggesting the form of a window frame. As a result, Muñoz's work acquires a dramatic tone, emphasized by the limited variety of colors he imposed for several years on his palette, restrained to a range of dark, earthy and brownishgray shades.
Javier Maderuelo
Muñoz attended the School of Fine Arts in Madrid, where he studied alongside many of the leading realist painters of his generation. He first learned of avant-garde art through postismo, a Castilian movement founded by the painter and poet Eduardo Chicharro Briones. Muñoz's style was figurative until 1955, when it started to develop towards abstraction.
In 1956, while in Paris, Muñoz discovered informalism. Upon his return to Spain, he produced purely abstract paintings in which he incorporated sand, fabrics, pasted paper and objects, among other elements. Once he had reached that stage, it took him very little time to discover the expressive qualities of a medium that would accompany him throughout his life: wood.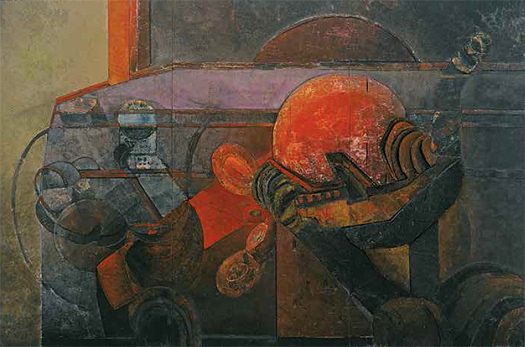 Homenaje a Pastora Pavón [Homage to Pastora Pavón], 1969-1970
Muñoz's works from the late 1950s are among the most representative examples of Spanish abstract expressionism. Though his work is predominantly dark, beneath the black and brownish-gray colors lie vivid hues of blue, red and green. Several of his works' titles and, to a certain extent, their formal composition refer to the landscape of Castile. In 1962 he completed the impressive altarpiece for the basilica of Aránzazu (Guipúzcoa). He later tackled difficult subjects, such as mines, Edgar Allan Poe's house, Rembrandt's slaughtered cow, and Golgotha. Then came windows, city streets, machines and geometrical structures, followed by his dreamlike figures.
After a brief period devoted almost exclusively to engraving, Muñoz returned to painting with renewed energy, as could be seen in the retrospective of his work organized in 1988 by the Museo Nacional Centro de Arte Reina Sofía in Madrid.
Homenaje a Pastora Pavón is among Muñoz's most significant works. Pastora Pavón (1890–1969), known as La Niña de los Peines [The Girl with Combs], was a leading singer of cante jondo—a vocal style in flamenco. Represented in portraits by Julio Romero de Torres, she also inspired Federico García Lorca's theory of the duende, or magical quality of some singers.
Juan Manuel Bonet
Este texto sólo puede reproducirse citando su procedencia:
Catálogo del Museu Fundación Juan March, Palma de Mallorca.